Product Description
Atago PAL-BX/RI Digital Dual Scale Refractometer
ATAGO PAL-BX/RI Digital Dual Scale Refractometer of Brix full range : Brix 0.0 to 93.0%, high measurement accuracy : Brix ±0.1% and Refractive Index (resolution 0.0001). RI and measurement temperature will continuously scroll across the display. The PAL-BX/RI works perfectly for measuring almost any sample.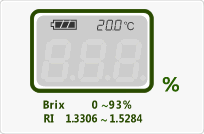 Specification Atago PAL-BX/RI Digital Dual Scale Refractometer
Model
PAL-BX/RI
Cat.No.
3852
Scale
Brix
Refractive Index
Temperature
Measurement Range
Brix : 0.0 to 93.0 %
Refractive Index : 1.3306 to 1.5284
Temperature : 5 to 45°C
Resolution
Brix : 0.1 %
Refractive Index : 0.0001
Temperature : 0.1°C
Measurement Accuracy
Brix : ±0.1%
Refractive Index : ±0.0003 (water at 20°C)
Temperature : ±1°C
Temperature compensation range
10 to 100°C (Brix only)
(Automatic Temperature Compensation)
Ambient Temperature
10 to 40°C
Sample Volume
0.3 ml
Measurement Time
3 seconds
Power Supply
2 × AAA Batteries
International Protection Class
IP65 Dust-tight and Protected against water jets
Dimensions & Weight
55(W)×31(D)×109(H)mm, 100g (Main Unit only)
---
---
Produk asli Kami distributor langsung Atago . Harga murah dan berkualitas bergaransi tentunya. dapat di kirim ke seluruh wilayah indonesia.
Dalam pengiriman produk yang pelanggan beli, sebelumnya sudah kami cek untuk memastikan produk dalam keadaan baik dan siap kirim.
---