Product Description
FLIR C2 Compact Thermal Camera
PERBEDAAN SEEK SHOTPRO & SEEK SHOT:
1. Hanya resolusi & Field of View nya saja, Features lainnya persis sama
FLIR C2 adalah kamera termal berfitur lengkap berukuran saku yang dirancang untuk berbagai aplikasi bangunan dan listrik / mekanik. Simpan di tempat Anda sehingga Anda siap kapan saja untuk menemukan titik panas tersembunyi, pemborosan energi, cacat struktural, penyumbat pipa, masalah HVAC, dan masalah lainnya. FLIR C2 membuatnya lebih terjangkau dari sebelumnya untuk menambah keunggulan kuat pencitraan termal.
FLIR C2 Compact Thermal Camera Pocket-portable Thermal Imaging
GET THE FULL PICTURE
The C2's generous 45° field of view (FOV) frames in more of the scene, the way the pros see it.
SENSITIVITY THAT SHOWS MORE
The high-sensitivity detector captures subtle temperature differences and thermal patterns so you can find leaks and building deficiencies.
FULL RADIOMETRIC FLEXIBILITY FOR POWERFUL REPORTS
C2 JPEG images store 4,800 individual thermal measurements you can analyze and edit, using FLIR Tools software.
MSX® Image Enhancement
The C2 features FLIR's unique MSX that adds key details from the onboard visible light camera to the entire infrared image in real time. The result: an all-in-one, undiluted thermal picture with visible light features that lets you instantly recognize where the problematic heat pattern is. MSX is real time whether watching the camera's LCD or streaming video over USB.
FEATURES FLIR C2 Compact Thermal Camera
320 x 240 Thermal Sensor
57° Field of View
-40°C to 330°C Temp. Range
Post capture analysis tools
SeekFusion
WiFi Streaming via free SeekView app
Capture photos & video
Large touch screen display
3 customizable spot temperatures
3 customizable area boxes with min, max and avg
Lock and adjust temperature span
Automatic Hi/Low temperature indicators
8 Color palettes
4 Emissivity presets
< 9 Hz frame rate
WHAT'S IN THE BOX FLIR C2 Compact Thermal Camera
FLIR C2 Compact Thermal Camera
Seek ShotPRO
Wrist Lanyard
Welcome Guide
USB Cable
MEDIA GALLERY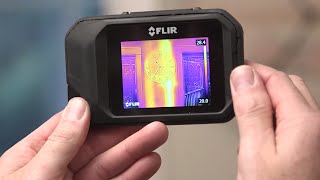 FLIR C2 @ CES 2015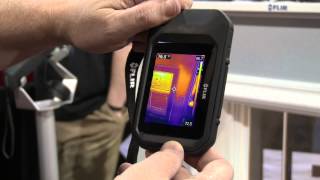 Hands on with the FLIR C2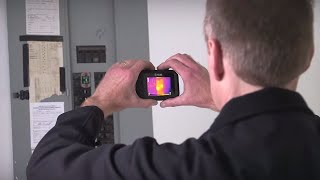 The FLIR C2: For Your Pocket
Karyamandiritechindo.com menghadirkan ragam pilihan produk untuk Solusi Semua Jenis Pungukuran & Pengujian kebutuhan anda. Dengan menggabungkan surveyor, laboratorium, alat ukur instrument, tools, security, GPS, binocular dan alat sipil ke dalam satu website, Karyamandiritechindo siap memenuhi segala kebutuhan Anda. Karyamandiritechindo juga menawarkan pengalaman belanja yang dapat disesuaikan dengan kebutuhan. Anda dapat mengambil pesanan Anda ataupun dikirimkan ke alamat tujuan. Karyamandiritechindo.com – No.1 Home, E-Commerce in Indonesia
Jual FLIR C2 Compact Thermal Camera harga kompetitif Tentunya Gratis antar untuk Area Jakarta dan dapat dikirim keseluruh Indonesia, Jika Anda butuh bantuan silahkan hubungi Customer Service (026) 5540 5390 & Whatsapp di 0813-1864-0412 dan Email karyamandiritechindo@gmail.com