Product Description
FLIR C3 Compact Thermal Wi-Fi Camera
PERBEDAAN SEEK SHOTPRO & SEEK SHOT:
1. Hanya resolusi & Field of View nya saja, Features lainnya persis sama
FLIR C3 Compact Thermal Wi-Fi Camera dirancang untuk menjadi alat bantu Anda untuk inspeksi bangunan, pemeliharaan fasilitas, HVAC, atau perbaikan listrik. Kamera ramping ini pas di saku Anda sehingga Anda bisa membawanya ke mana saja. Layar sentuh yang terintegrasi sangat mudah dipelajari, sehingga Anda dapat dengan cepat mendapatkan pekerjaan menemukan masalah tersembunyi, mendokumentasikan perbaikan, dan berbagi gambar melalui Wi-Fi.
Professional Tool For Your Pocket
SHARE IMAGES INSTANTLY OVER WI-FI
Connects via Wi-Fi to the FLIR Tools app to upload images, build reports, and send them from the jobsite.
PROFESSIONAL-LEVEL MEASUREMENT FEATURES
Pro-level features like the Hot Spot or Cold Spot let you quickly measure within a defined area box.
FULL RADIOMETRIC FLEXIBILITY FOR POWERFUL REPORTS
FLIR C3 Compact Thermal Wi-Fi Camera JPEG images store 4,800 individual thermal measurements you can analyze and edit, using FLIR Tools software.
Peningkatan Gambar MSX®
C3 menampilkan MSX unik FLIR yang menambahkan perincian kunci dari kamera cahaya tampak onboard ke seluruh gambar inframerah secara real time. Hasilnya: gambar termal all-in-one yang tidak diencerkan dengan fitur cahaya tampak yang memungkinkan Anda langsung mengenali di mana pola panasnya yang bermasalah. MSX adalah waktu nyata apakah menonton LCD kamera atau streaming video melalui USB.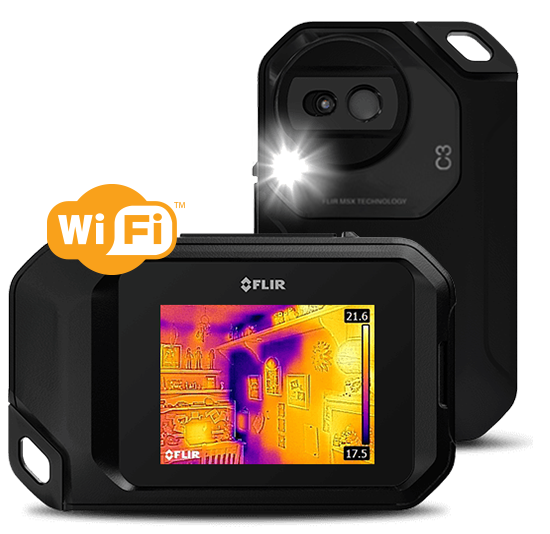 IMAGER THERMAL HANDHEL-SIZED HANDHELD
Seek Shot adalah kamera pencitraan termal paling canggih untuk membangun profesional. Jepret foto dan video dan segera analisa dengan alat termografi on-board baru. Tambahkan kotak pengukuran dan suhu tempat untuk membuat laporan hemat waktu di tempat. Tepatnya mendiagnosis masalah dengan 16 kali resolusi kamera dengan harga yang sebanding. Ambil kendali penuh atas gambar Anda dengan menyesuaikan perpaduan antara gambar yang terlihat dan panas. Bagikan dan streaming ke smartphone atau tablet apa pun melalui WiFi. Pasang ke tripod dan streaming langsung ke kolega untuk menangani pekerjaan yang lebih sulit di lingkungan yang menantang.
KEY FEATURES FLIR C3 Compact Thermal Wi-Fi Camera
SeekFusion, PASTIKAN SDH MENONTON VIDEO NYA UNTUK MELIHAT KELEBIHAN SEEK SHOOTPRO DAN SEEK SHOOT DENGAN FEATURE SeekFusion nya
Photo Editing & Analysis in the field, tonton video pertama
FEATURES FLIR C3 Compact Thermal Wi-Fi Camera
206 x 156 Thermal Sensor
36° Field of View
-40°C to 330°C Temp. Range
Post capture analysis tools
SeekFusion™
WiFi Streaming via free SeekView app
Capture photos & video
Large touch screen display
3 customizable spot temperatures
3 customizable area boxes with min, max and avg
Lock and adjust temperature span
Automatic Hi/Low temperature indicators
8 Color palettes
4 Emissivity presets
< 9 Hz frame rate
WHAT'S IN THE BOX FLIR C3 Compact Thermal Wi-Fi Camera 
FLIR C3 Compact Thermal Wi-Fi Camera
Seek Shot
Wrist Lanyard
Welcome Guide
USB Cable
Karyamandiritechindo.com menghadirkan ragam pilihan produk untuk Solusi Semua Jenis Pungukuran & Pengujian kebutuhan anda. Dengan menggabungkan surveyor, laboratorium, alat ukur instrument, tools, security, GPS, binocular dan alat sipil ke dalam satu website, Karyamandiritechindo siap memenuhi segala kebutuhan Anda. Karyamandiritechindo juga menawarkan pengalaman belanja yang dapat disesuaikan dengan kebutuhan. Anda dapat mengambil pesanan Anda ataupun dikirimkan ke alamat tujuan. Karyamandiritechindo.com – No.1 Home, E-Commerce in Indonesia
Jual FLIR C3 Compact Thermal Wi-Fi Camera harga kompetitif Tentunya Gratis antar untuk Area Jakarta dan dapat dikirim keseluruh Indonesia, Jika Anda butuh bantuan silahkan hubungi Customer Service (026) 5540 5390 & Whatsapp di 0813-1864-0412 dan Email karyamandiritechindo@gmail.com