Product Description
Flowatch Air Propeller 25mm FL-03
Flowatch Air Propeller 25mm FL-03 A 25mm Air Propeller replacement for use with the Flowatch by Skywatch. The propeller can be removed from the small support rod shown if needed to put directly onto the Hanging Sensor. This makes it interchangeable between the hanging sensor and telescopic rod. Water Impeller for Flowatch 25mm.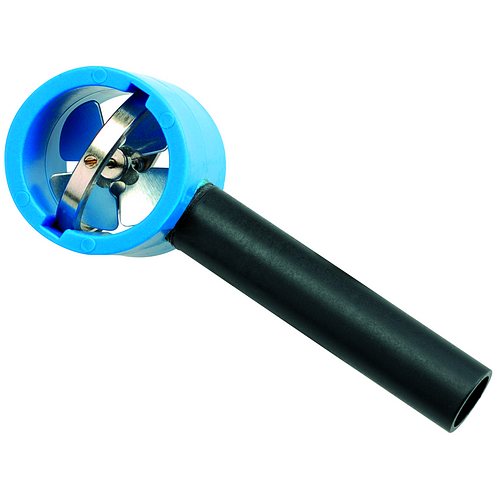 Spesification Flowatch Air Propeller 25mm FL-03 :
25mm Water Impeller for Flowatch
Accuracy: 2%
fluid speed; 3%
air velocity; Temperature, 1 F ( 0.2 C)
Range: Fluid Speed, 0.2 to 40 mph ( 0.1 to 18 M/ Sec)
depending on impeller; Temperature, -58 F to 212 F ( -50 C to 100 C) .
Resolution: 0.3 km/ h; 0.2 mph; 0.2 knots; 0.1 M/ Sec
Temperature Modes: Minimum, maximum, current temperature, wind chill factor
Operating Modes: Current, maximum and average fluid speed
Power: 2 AA
Batteries ( included)
Dimensions: Display, 5.25 x 2.25 x 2.5 ; Case, 25 x 13 x 3.
Jual Flowatch Air Propeller 25mm FL-03 dengan harga murah dan berkualitas bergaransi tentunya. dapat di kirim ke seluruh wilaya Indonesia.

Jika anda butuh penawaran dan info Stok silahkan hubungi sales kami di No Telpon 0821 2742 8667 Telpon/SMS/Whatsapp.

Karyamandiritechindo.com Supplier dan Distributor Flowatch di Indonesia. Karyamandiritechindo.com menyedikakan juga berbagai merk Alat ukur & Lab, Alat Survey, Alat komunikasi dan GPS

Dalam pengiriman produk yang pelanggan beli, sebelumnya sudah kami cek untuk memastikan produk dalam keadaan baik dan siap kirim.