Product Description
Siglent SDS2000X Series Super Phosphor Oscilloscopes
Features :
70 MHz,100 MHz,200 MHz,300 MHz models
Real-time Sampling Rate 2 GSa/s
Record length up to 140 Mpts
Waveform Capture Rate 140,000 wfm/s (Normal Mode); 500,000 wfm/s (Sequence mode)
Promotional discount on 100, 200, 300 MHz models (-30%)
Innovative SPO Technology
In traditional digital oscilloscopes, data process and display are all implemented in CPU, which becomes the bottleneck of data acquire, process and display. SDS2000X adopts SIGLENT unique SPO technology, waveform process and display are implemented via FPGA.
Waveform capture rate up to 500, 000 wfm/s, capture rare events quickly
256-level intensity and color temperature display
Digital trigger, low jitter and high trigger sensitivity
Memory depth up to 140 Mpts
With these features, you can quickly locate sporadic glitches and anomalies to find the source of the problem.
Sequence Mode
The Sequence mode divides the storage into multiple segments, each segment stores a triggered frame. It can acquire up to 80,000 trigger events, which minimize the dead time down to 2 μs.It improves the probability of capturing abnormal events.
Waveforms captured in Sequence mode can also be played back in the History mode.
History Mode
History mode is running in background. It can save up to 80,000 frames of waveforms and get time stamp on each of them.
History waveforms can be replayed anytime to observe abnormal events. With Cursors and Measurements, it is convenient to locate the source of problem.
History function can be turned on with one button operation on front panel.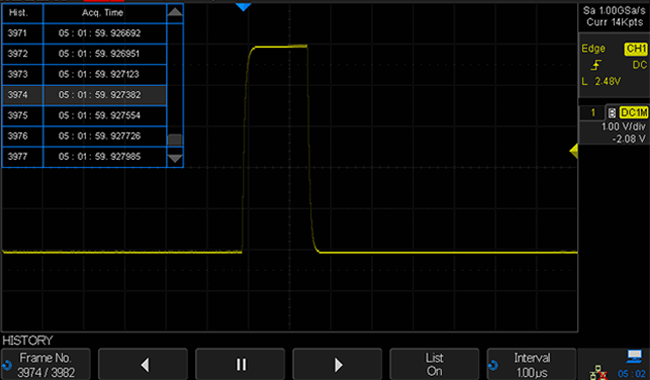 H10 kinds of One-button Operations
The frequently used functions can be accessed with one button press. Zoom, Roll, Print, Intensity, Measure, History, Default, Cursors, Clear Sweeps, Auto Setup.
ERES Enhanced Resolution Mode
ERES mode can improve signal to noise ratio independent of signal periods and stability of trigger point as Average mode does.
The SDS2000X supports ERES mode with an equivalent resolution of 11 bits.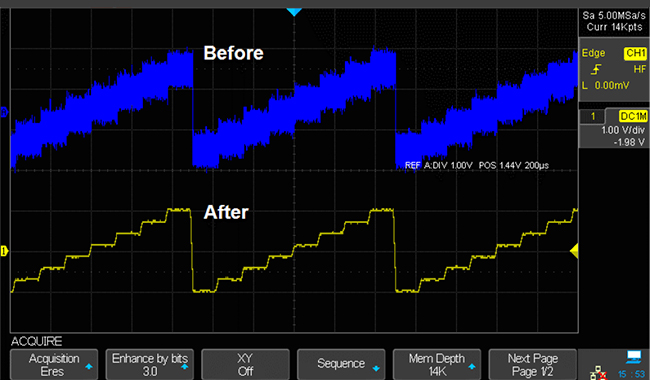 Specifications Siglent SDS2000X Series Super Phosphor Oscilloscopes :
---
| | |
| --- | --- |
| Bandwidth | 70 MHz, 100 MHz, 200 MHz, 300 MHz |
| Sample Rate(Max.) | 2 GSa/s |
| Waveform Capture rate(Max.) | 500,000 wfm/s |
| Analog Channels | 2/4 + EXT |
| Trigger Type | Edge, Slope, Pulse width, Window, Runt, Interval, Dropout, Pattern, Video |
| Serial Trigger | I2C, SPI, UART/RS232, CAN, LIN |
| | |
| --- | --- |
| Decoder Type | I2C, SPI, UART/RS232, CAN, LIN |
| 16 Digital Channels (MSO Optional) | Maximum waveform capture rate up to 500 MSa/s, Record length up to 14 Mpts/CH |
| Waveform Generator (optional) | Single channel, Max. frequency up to 25 MHz, 125 MSa/s sampling rate, 16 kpts wave length |
| I/O | USB Host, USB Device, LAN, Pass/Fail, Trigger Out |
| Display | 8 inch TFT LCD (800×480) |
---
---
Produk asli Kami distributor langsung Siglent .Harga murah dan berkualitas bergaransi tentunya. dapat di kirim ke seluruh wilaya indonesia.
Dalam pengiriman produk yang pelanggan beli, sebelumnya sudah kami cek untuk memastikan produk dalam keadaan baik dan siap kirim.
---