Product Description
Siglent SPD3303C Series Programmable DC Power Supply
The SPD3303C is a LED display screen programmable linear DC power supply that is both lightweight and feature-packed. It has three independent outputs: two sets of adjustable voltage and a fixed set of selectable voltages; 2.5V, 3.3V, and 5V. In addition, the '3303C has outputs that are short-circuit and overload protected. Total power is 220W. It has three available operation modes; independent, series and parallel modes. The SPD3300C has a high performance-to-price ratio and can be used in various types of production, education and research environments.
Features
3 independent high precision outputs:30V/3.2A*2, 2.5V/ 3.3V/ & 5V/ 3.2A*1, total 220W power
4 digits voltage and 3 digits current display, min resolution: 10mV, 10mA
Three output modes: independent, series and parallel
100V/120V/220V/230V compatible design, to meet the needs of various power grids
Smart temperature controlled fan, effectively reduces the noise
Save/Recall 5 group system set-ups, supports data storage expansion
Connected to PC via USB Device, support SCPI command, to meet the control and communication needs
Excellent Output Performance
The SPD3303C is robust and stable, and can accurately simulate even small voltage or current changes, fully meeting the power requirements of the load.
Ultra-high resolution: 1 mV, 1 mA
Excellent setting and readback accuracy to ensure accurate and pure output
Support panel programming and timing output
3 independently controlled and isolated outputs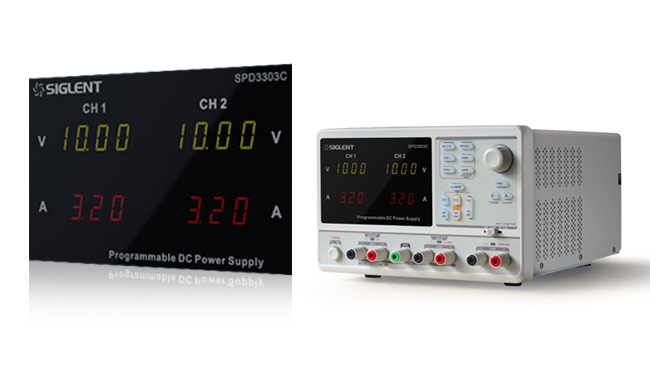 Series/parallel/independent Mode
The series-parallel function combines two power supplies into one power supply, which expands the output power range of a single power supply, which brings convenience in some applications. The three independent power supplies can individually control the output switch, and they can be turned on or off at the same time.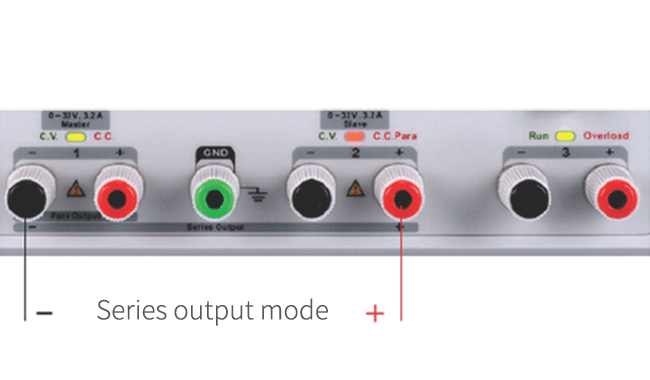 Specifications Siglent SPD3303C Series Programmable DC Power Supply :
Channel : CH1:0 ~ 32 V,0 ~ 3.2 A
CH2:0 ~ 32 V,0 ~ 3.2 A
CH3:2.5/3.3/5.0 V,3.2 A
Display : 32 V full scale 4 digits 3.2 A full scale 3 digits LED display
Resolution : 10 mV/10 mA
Constant Current Mode
Line Regulation : ≤ 0.2%+3 mA
Load Regulation : ≤ 0.2%+3 mA
Ripple&Noise : ≤ 3 mArms
Constant Voltage Mode
Line Regulation : ≤ 0.01%+3 mV
Load Regulation : ≤ 0.01%+3 mV
Ripple&Noise : ≤ 1 mVrms(5 Hz ~ 1 MHz)
Recovery Time : < 50μs(50% load change, minimum load 0.5A)
Parallel Mode
Line Regulation : ≤ 0.01%+3 mV
Load Regulation : ≤ 0.01%+3 mV

Series Mode
Line Regulation : ≤ 0.01%+5 mV
Load Regulation : ≤ 300 mV
---
---
Produk asli Kami distributor langsung Siglent . Harga murah dan berkualitas bergaransi tentunya. dapat di kirim ke seluruh wilaya indonesia.
Dalam pengiriman produk yang pelanggan beli, sebelumnya sudah kami cek untuk memastikan produk dalam keadaan baik dan siap kirim.
---