Product Description
Tektronix 6 Series Low Profile Digitizer
Deskripsi Teknis Tentang Produk Tektronix 6 Series Low Profile Digitizer
Applications requiring high-speed digitizers shouldn't trade-off performance when turning on channels. The 6 Series Low Profile Digitizer sets a new standard by not interleaving sample rate, bandwidth or record length. You get the fastest and most accurate performance from your digitizer – all in a 2U space.
Built-in Spectrum View inputs with DDC & IQ data offload
Whether you're a spectrum analyzer expert or an occasional user, you'll be able to put the built-in Spectrum View right to work. The Tektronix TEK049 ASIC has patented dual signal paths with an ADC and DDC that allow independent controls of both time domain and frequency domain.
Highlights
Up to 2 GHz bandwidth with Digital Down Converter (DDC)
Individual time domain and frequency domain controls
Fast raw IQ data offloading to PC
RF vs Time Triggering (trigger on frequency or magnitude changes)
High bandwidth manufacturing such as 5G and UWB
Higher data throughput is driving multiple technologies such as 5G mmWave, ultra wide band, WiGig and automotive RADAR. The 6 Series Low Profile is an ideal IF digitizer for multichannel systems and packs 4 high performace 25 GS/s channels into a 2U rack. By using the DDC, there's up to 30% reduction in data sizes, which means you get your data faster for post-processing.
Highlights
2 rack units high (3.5 inches) with rackmount attached.
Easy Remote Control – browser access and control.
Ethernet and USB 3.0 ports for fast data transfer.
Programming support: IVI-C, IVI-COM, MATLAB, LabView, Python, VISA, Sockets, and more.
Built-in programming command translator.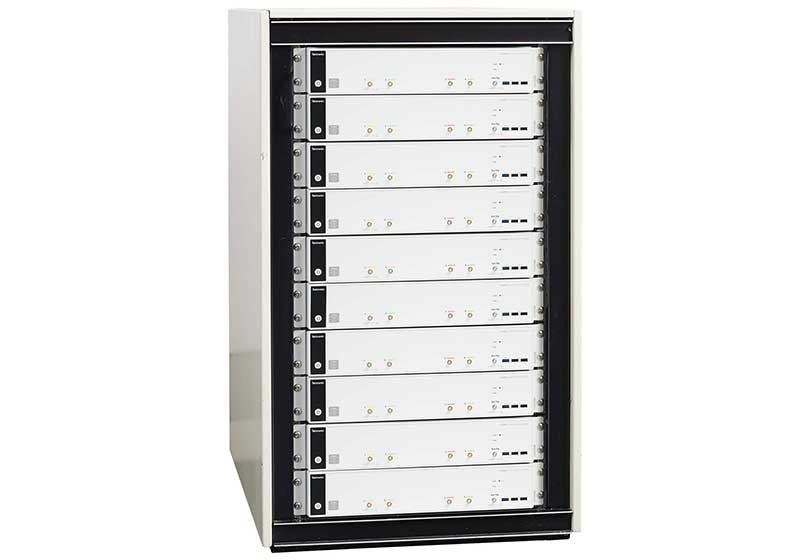 Synchronize multiple high-speed digitizers
Turn two remote digitizers into a single virtual instrument. Discover, search and analyze across more channels then ever before.
View all channels simultaneously.
Rearrange or group channels.
Unlimited automated measurements.
Easy Ethernet access.
Transition from design to manufacturing test, effortlessly
Eliminate work by using exactly the same software and test routines in production that you developed during design. Use the benchtop 6 Series MSO with its 15.6-inch HD display and pinch-swipe-zoom touchscreen for design validation. Run the same user interface, similar hardware while using the compact low-profile digitizer version in manufacturing.
Spesifikasi Tentang Produk Tektronix 6 Series Low Profile Digitizer
25 GS/s on all 4 channels
DC to 8 GHz on all 4 channels
12-bit analog-to-digital converters
Up to 1 billion samples (1 Gpt) on all 4 channels
Up to 2 GHz RF DDC bandwidth on all channels
2U rack ready digitizer
Best in class low noise and ENOB
---
Produk asli Kami distributor langsung Tektronix . Harga murah dan berkualitas bergaransi tentunya. dapat di kirim ke seluruh wilaya indonesia.
Dalam pengiriman produk yang pelanggan beli, sebelumnya sudah kami cek untuk memastikan produk dalam keadaan baik dan siap kirim.
---