Product Description
Tektronix MSO/DPO70000 Oscilloscope
The MSO/DPO70000DX is one of the most advanced oscilloscopes in its class—enabling today's engineer to see signals better with minimal noise, debug signal anomalies faster and utilize measurement and analysis tools for automated compliance testing and other verifications. In addition, the MSO/DPO70000DX is perfect for analog/digital design and debug, data communications and high-speed serial communications. See how you can use the MSO/DPO70000DX for your next project to find and analyze a wide range of mixed-signal anomalies.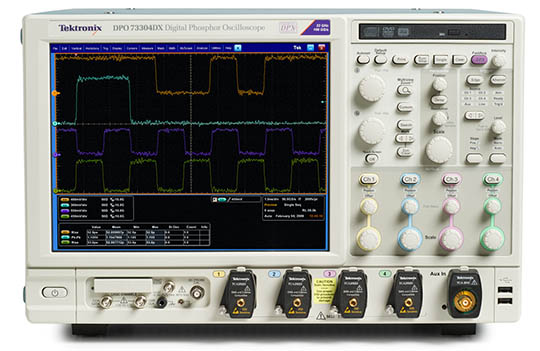 See your real signal
Industry-leading signal fidelity, minimum noise and highest effective number of bits (ENOB) provides confidence you are seeing your real signal and measuring it precisely. High signal-to-noise ratio and low internal noise floor enable you to perform precise characterization of your designs.
Highlights
Bandwidth enhancement eliminates imperfections in frequency response to the probe tip
Low jitter noise floor and high vertical accuracy provide additional margin in your measurements
Wide range of probes simplify complex measurement setups and maintain signal integrity
Compare optical and electrical signal timing on one screen with calibrated optical probe
Reduce debug time
From first power-on through operational checks, MSO/DPO70000 Series provides features you need to find problems fast. An industry-leading waveform capture rate and Pinpoint® triggering make you efficient at tracking down and capturing intermittent faults.
Highlights
FastAcq keeps up with your changing signals to show true system behavior including elusive faults
Quickly find invalid state or bus sequences with parallel/serial bus decoding/triggering
iCapture™ easily verifies analog characteristics of digital signals without changing connections
Visual Trigger saves hours of capturing and manually searching through acquisitions to find critical events and complete your debug efforts
Measurement and analysis tools that keep you on track
Application support packages provide automated compliance testing, insightful debugging tools and the extensive signal connection options you need to verify and certify your latest design.
Highlights
DPOJET: the most comprehensive, flexible measurement tool available
SDLA: the most powerful, complete tool for analyzing and compensating for signal affects in serial data links
Broadest range of standards support, including I2C, SPI, RS-232, FlexRay, MIPI, DisplayPort, HDMI, PAM4, PCIe Gen3/Gen4/Gen5, SATA/SAS, USB, Type-C, 10/100/1000BaseT to 10G/100G Ethernet
Powerful debugging tools to quickly uncover/fix design challenges
Optical measurements, such as Extinction Ratio (ER), Average Optical Power (AOP), Optical Modulation Amplitude (OMA), Optical High/Optical Low value – compatible with DPO7OE1/DPO7OE2 optical probe
Applications
Analog/Digital Design and Debug
When you're debugging your next design, you need to quickly find and analyze a wide range of mixed-signal problems, from signal integrity issues like crosstalk or jitter, to bus faults such as setup and hold violations or dropped packets. That's when you need an oscilloscope with powerful tools and reliable performance. You'll keep on schedule when you have an MSO/DPO70000 on your bench.
Highlights
Easily view analog characteristics of any input and verify system timing with iCapture™ on 4 analog and 16 logic channels
Analyze system operation on the timescale you need with deep memory on all channels
Find and fix problems fast with a full suite of triggering, decoding and measurement tools
Data Communications
Today's data communication networks are constantly evolving and are built upon many different standards. MSO/DPO70000 offers comprehensive, integrated tool sets for validating the physical layer of Ethernet devices and debugging ethernet-based systems from 10BASE-T up to 40/100GB. MSO/DPO70000 also offer advanced compliance and debug tools for other Data Comm standards.
Highlights
Standard-specific automated compliance testing and debugging tools
Extensive jitter analysis and debug tool set
Characterize PAM4 and NRZ signals
High Speed Serial Communications
Next generation digital interface standards push the limits of today's compliance and debug tools. MSO/DPO70000 Series' automated measurement suites speed PHY validation cycles and ensure consistency. Powerful tools like Protocol Decoding and Visual Trigger shorten debugging when compliance measurements fail. Identify jitter and noise from crosstalk or other multi-lane noise coupling.
Highlights
Accelerate analysis, validation, and pre-compliance testing of your PCIe, SATA or SAS design
Quickly find the root cause of issues when testing USB Type-C designs
Decrease DisplayPort compliance testing and HDMI physical layer validation times
SDLA with DPOJET provide comprehensive simulation and measurement of Computer, Communications, and Memory buses
Radar And RF
MSO/DPO70000 Series with SignalVu Vector Analysis software gives you the analysis capabilities required to overcome the most challenging RF, wireless and microwave design problems with total confidence. You can analyze signals up to 70GHz wide with the same tools used on Tektronix' Real-Time Spectrum Analyzers.
Highlights
Easily verify wideband radar, high data-rate satellite links, WLAN 802.11, WiGig 802.11 or frequency-hopping radio designs
Make measurements in frequency, time, phase, modulation domains simultaneously
Application optimized software options supporting wideband radar, high data-rate satellite links, IEEE 802.11 a/b/g/j/p/n/ac (WiFi), IEEE802.11ad/ay (WiGig), Zigbee and Bluetooth
Advanced Research
Get insight into the fleeting and subatomic events that represent the world of fundamental particles. Discover how we're measuring the world's first true quantum computer. Find out how today's advanced researchers are changing the way we live our lives in profound ways.
Highlights
Quantum Research
Rotational Spectroscopy
Photonic Doppler Velocimetry (PDV)
Specifications Tektronix MSO/DPO70000 Oscilloscope
| Model | Analog Bandwidth | Sample Rate | Record Length | Analog Channels | Digital Channels | |
| --- | --- | --- | --- | --- | --- | --- |
| DPO73304DX | 33 GHz | 50 GS/s – 100 GS/s | 62.5M points – 1G points | 4 | – | |
| MSO73304DX | 33 GHz | 50 GS/s – 100 GS/s | 62.5M points – 1G points | 4 | 16 | |
| DPO72504DX | 25 GHz | 50 GS/s – 100 GS/s | 62.5M points – 1G points | 4 | – | |
| MSO72504DX | 25 GHz | 50 GS/s – 100 GS/s | 62.5M points – 1G points | 4 | 16 | |
| MSO72304DX | 23 GHz | 50 GS/s – 100 GS/s | 62.5M points – 1G points | 4 | 16 | |
| DPO72304DX | 23 GHz | 50 GS/s – 100 GS/s | 62.5M points – 1G points | 4 | – | |
| DPO72004DX | 20 GHz | 50 GS/s – 100 GS/s | 62.5M points – 1G points | 4 | – | |
| MSO72004DX | 20 GHz | 50 GS/s – 100 GS/s | 62.5M points – 1G points | 4 | 16 | |
| MSO71604DX | 16 GHz | 50 GS/s – 100 GS/s | 62.5M points – 1G points | 4 | 16 | |
| DPO71604DX | 16 GHz | 50 GS/s – 100 GS/s | 62.5M points – 1G points | 4 | | |
| DPO71254DX | 12.5 GHz | 50 GS/s – 100 GS/s | 62.5M points – 1G points | 4 | – | |
| MSO71254DX | 12.5 GHz | 50 GS/s – 100 GS/s | 62.5M points – 1G points | 4 | 16 | |
| MSO70804DX | 8 GHz | 50 GS/s – 100 GS/s | 62.5M points – 1G points | 4 | 16 | |
| DPO70804DX | 8 GHz | 50 GS/s – 100 GS/s | 62.5M points – 1G points | 4 | – | |
---
Produk asli Kami distributor langsung Tektronix . Harga murah dan berkualitas bergaransi tentunya. dapat di kirim ke seluruh wilayah indonesia.
Dalam pengiriman produk yang pelanggan beli, sebelumnya sudah kami cek untuk memastikan produk dalam keadaan baik dan siap kirim.
---