Product Description
Autool BT660 6-30V Battery Tester with Printer Power System Diagnostic for 12V Car
AUTOOL BT660 Car Battery Load Tester with Printer is used for lead-acid starting battery, regular flooded, AGM flat plate, AGM Spiral, GEL and EFB. Applying the advanced conductance testing technology and built-in thermal printer, BT660 can give you accurate testing results and print it in seconds.

AUTOOL BT660 6-32V Car Battery Load Tester Features:
[BATTERY & CRANKING & CHARGING TEST]: AUTOOL BT660 Car Battery Load Tester tests battery, cranking & charging directly for in-car or out of car battery, quickly and accurately measure the actual cold cranking amps capability of the vehicle starting battery, healthy status of the battery itself, and common fault for auto repair.
[BUILT-IN PRINTER & DATA DOWNLOAD]:Quick and accurate test result in LCD display just millseconds, with printer you are allowed to review the result date and print the result report. Plus when it connects to a PC via a USB port, you can save data for easy reference next time.
[BATTERY TROUBLE SHOOTING]:Test standards include most battery standards in the world, CCA IEC EN DIN JIS and OTHER SPECIES. Super wide range pro tester rated from 100 to 3000 CCA. Compatible with cars, motorcycles, trucks, RVs, ATVs, SUVs, boats, yachts, mowers and even golf carts. With Polarity Reverse Protection, both the battery and device won't be damaged.
[MULTI-LANGUAGE SUPPORT]: 10 Languages are available. Available in English, Spanish, German, French, Russian, Chinese, Dutch, Japanese, Polish and Italian. Other languages can be customized.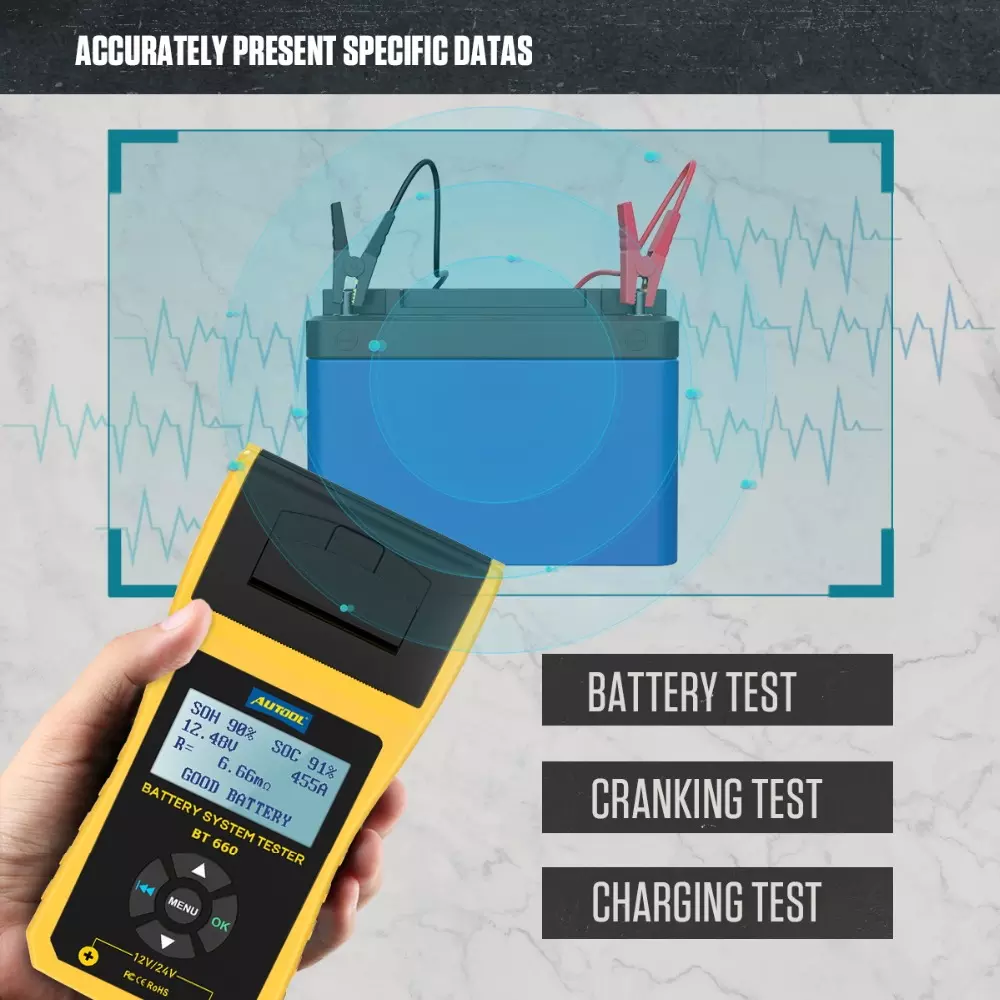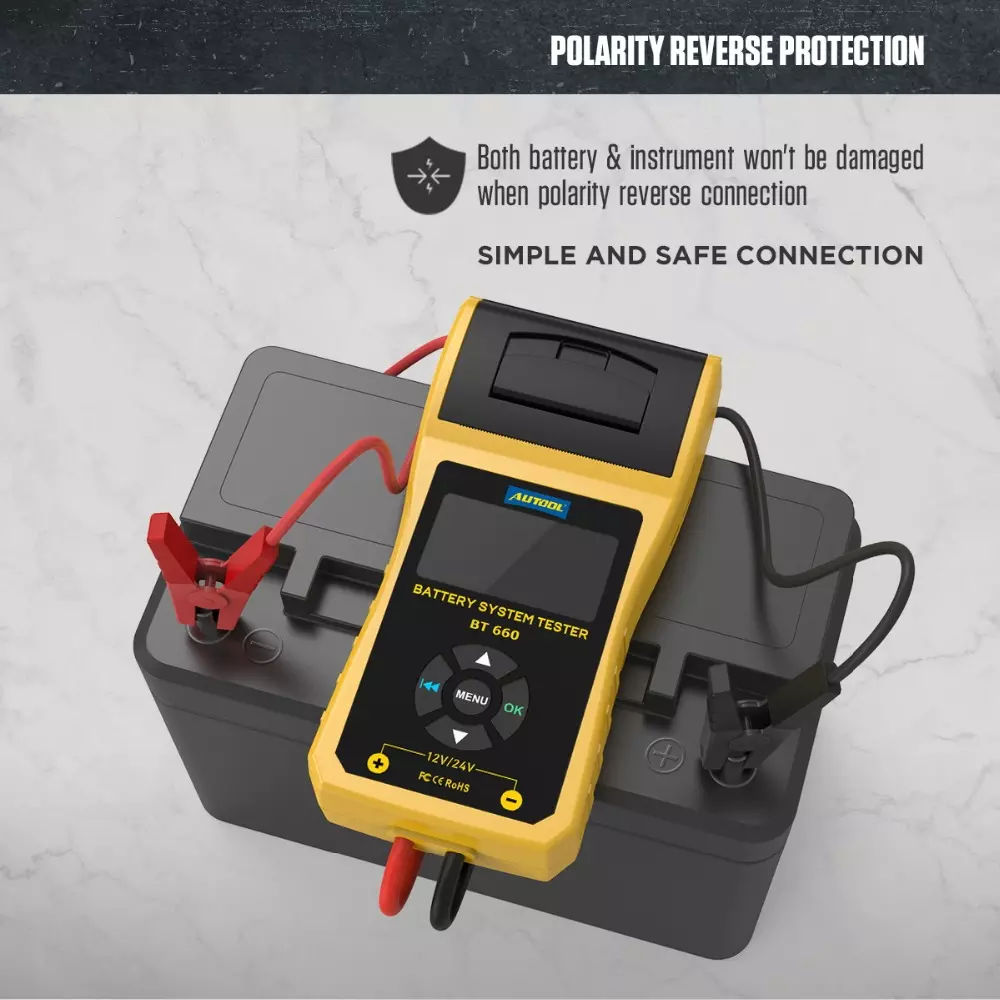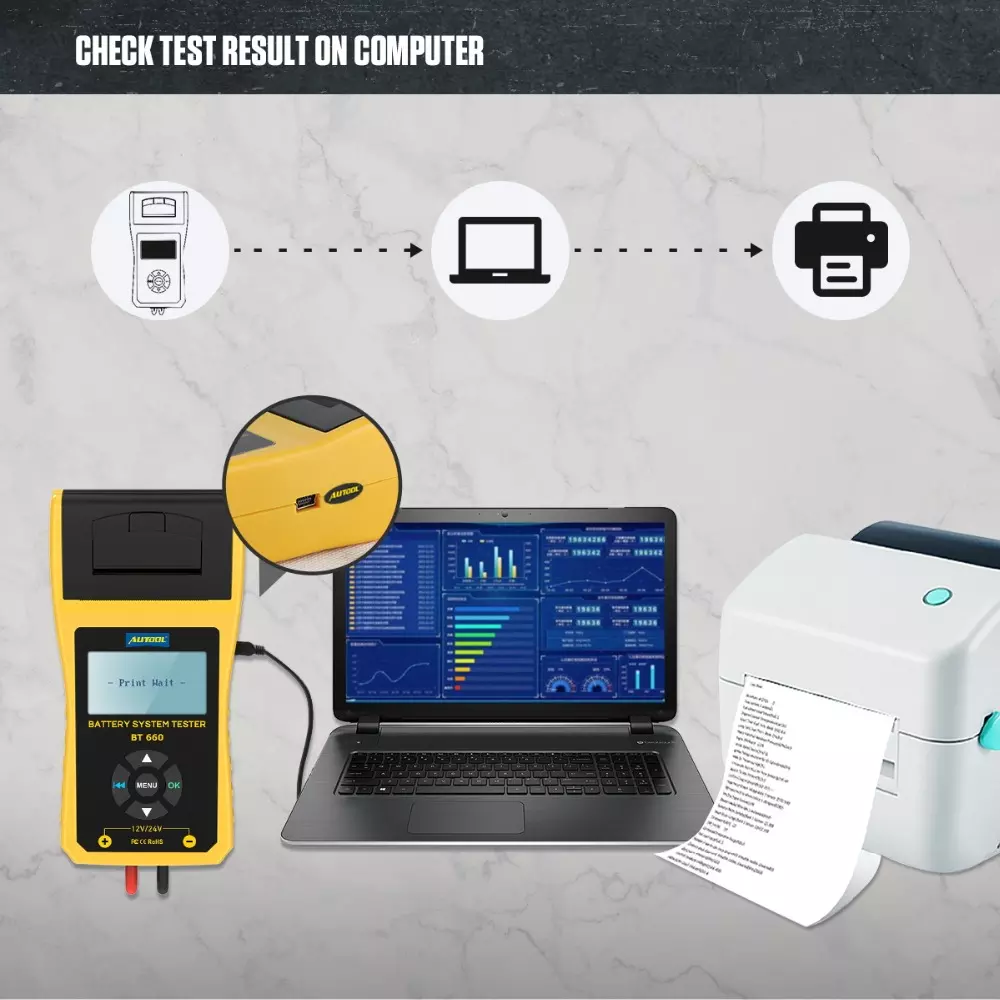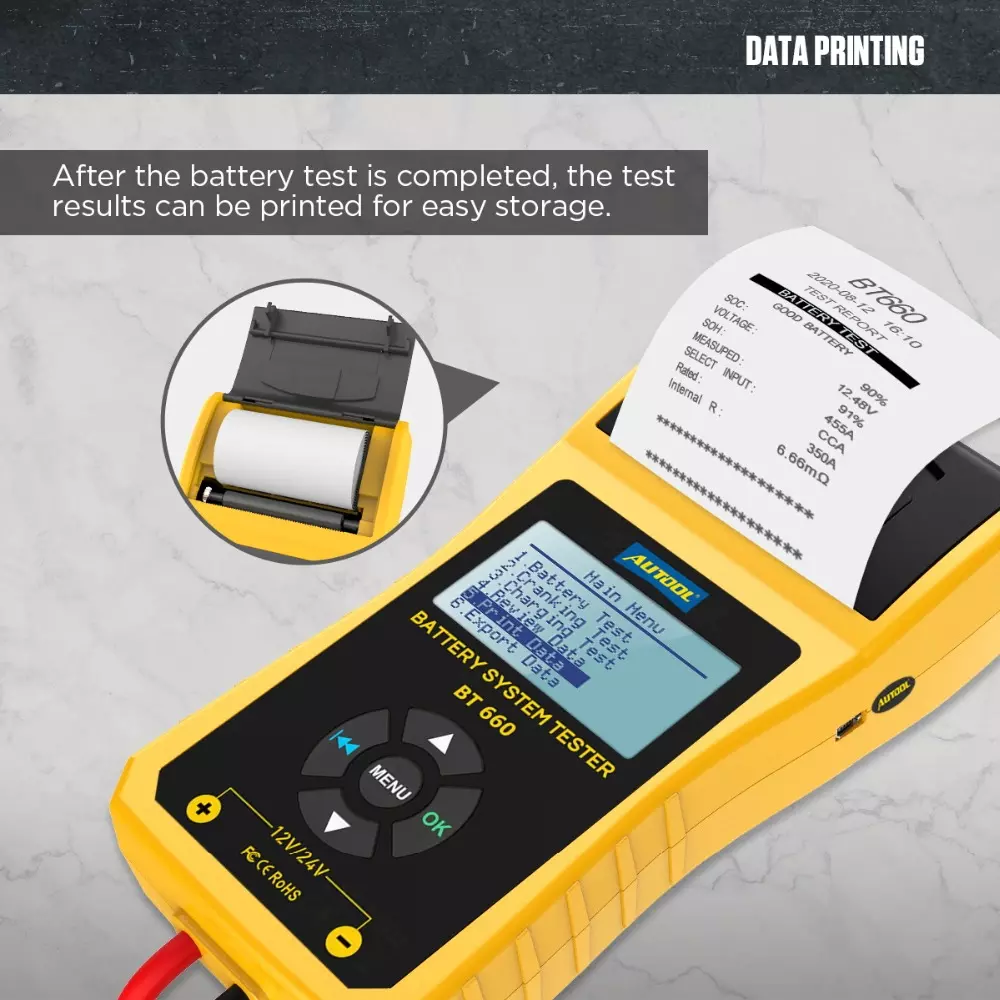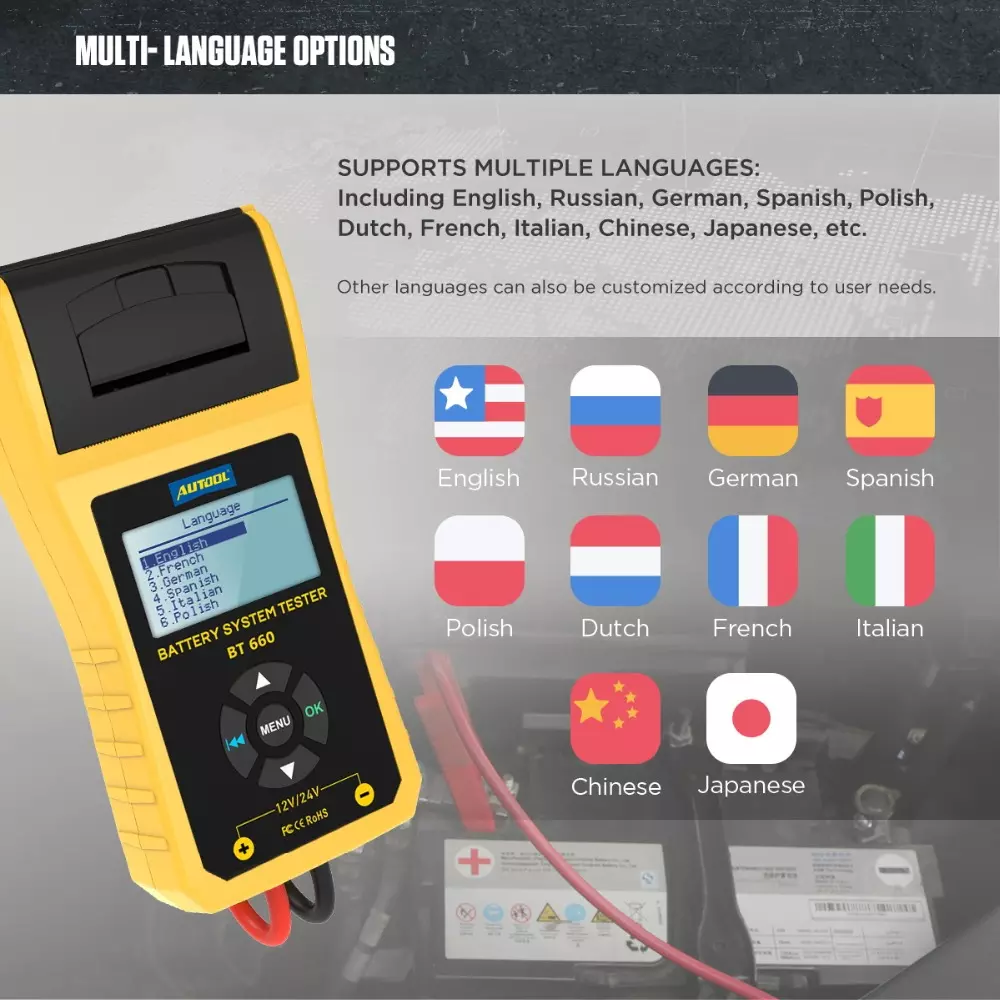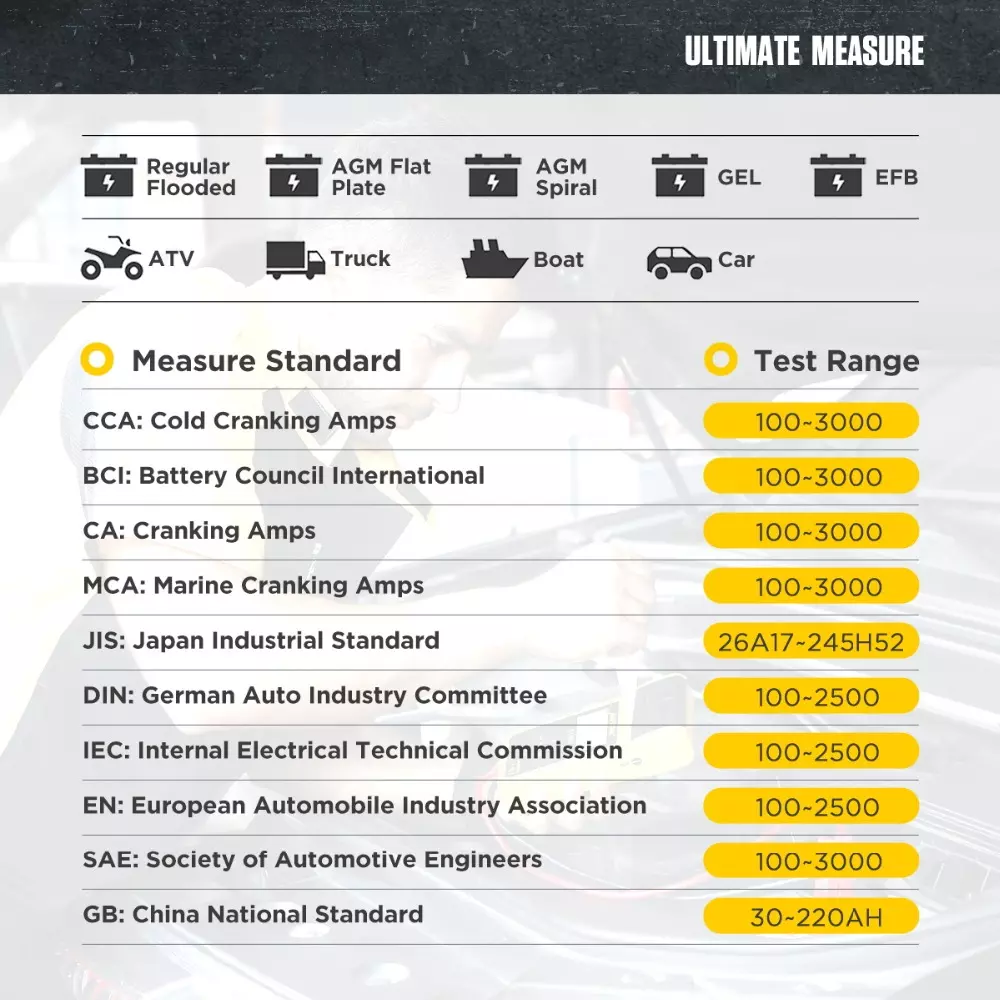 Three Functions Test Operation Steps of AUTOOL BT660 Car Battery Load Tester with Printer
Step 1. Connect the 12V/24V battery, red clips to positive pole and black clips to negative pole.
Step 2. Battery Test: Firstly select the type of battery to be tested, then the test criteria and the test range, and then you have the results within few seconds.
Step 3. Cranking Test: After selecting the cranking test function, follow the prompts to start the engine. Test completed.
Step 4. Charging Test: After entering the charging test function, follow the prompt to increase the speed to 2500 RPM for 5 seconds, then press OK. Test completed.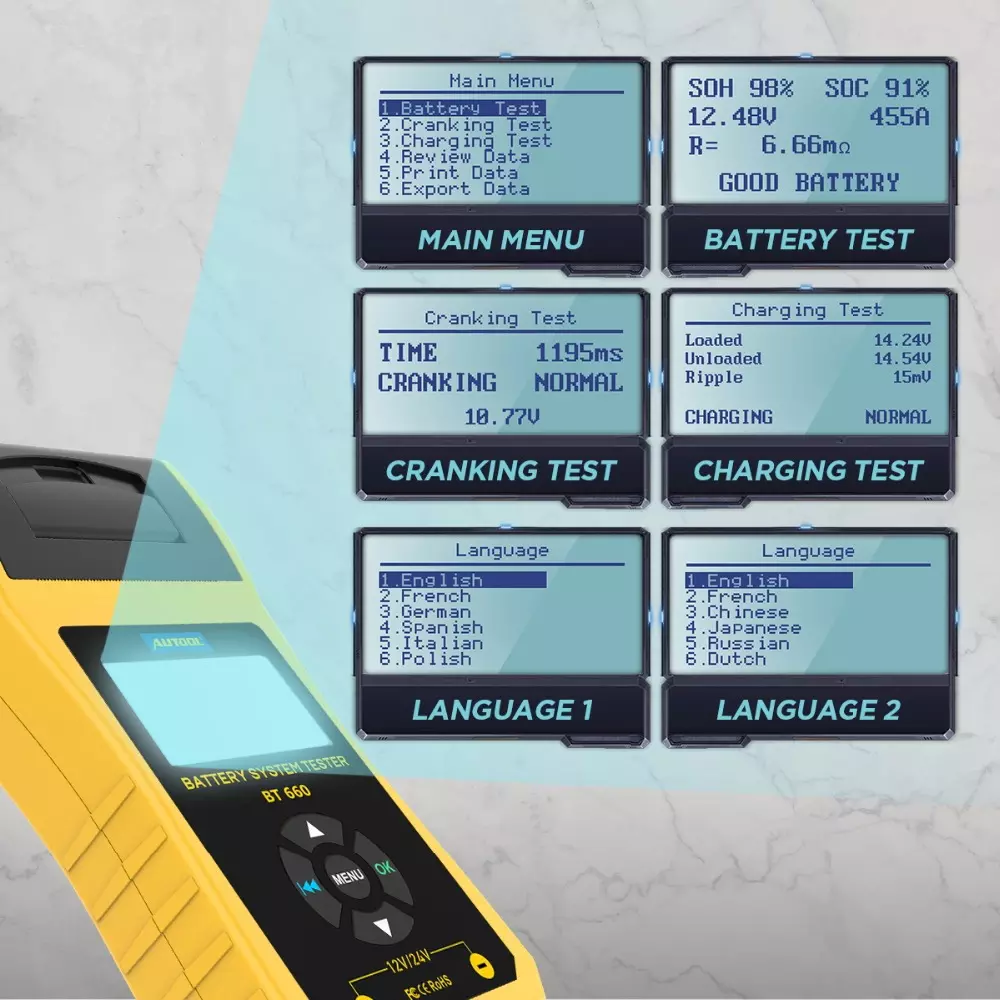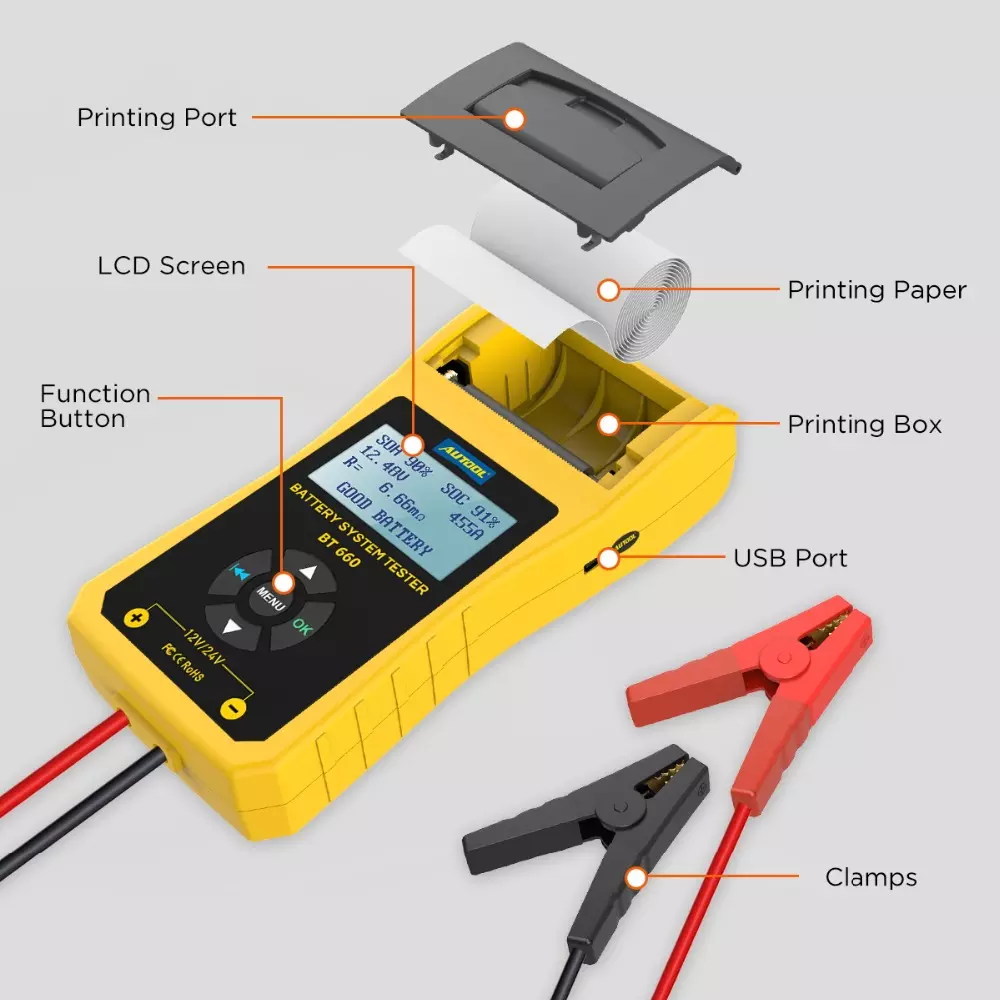 Details Display:
Find every single test results about your car battery quickly here, clearly and accurately.
Packing List:
1pcs * AUTOOL BT660 Car Battery Load Tester
2pcs * Full copper core kelvin clip
1pcs * Manual
1pcs * USB Cable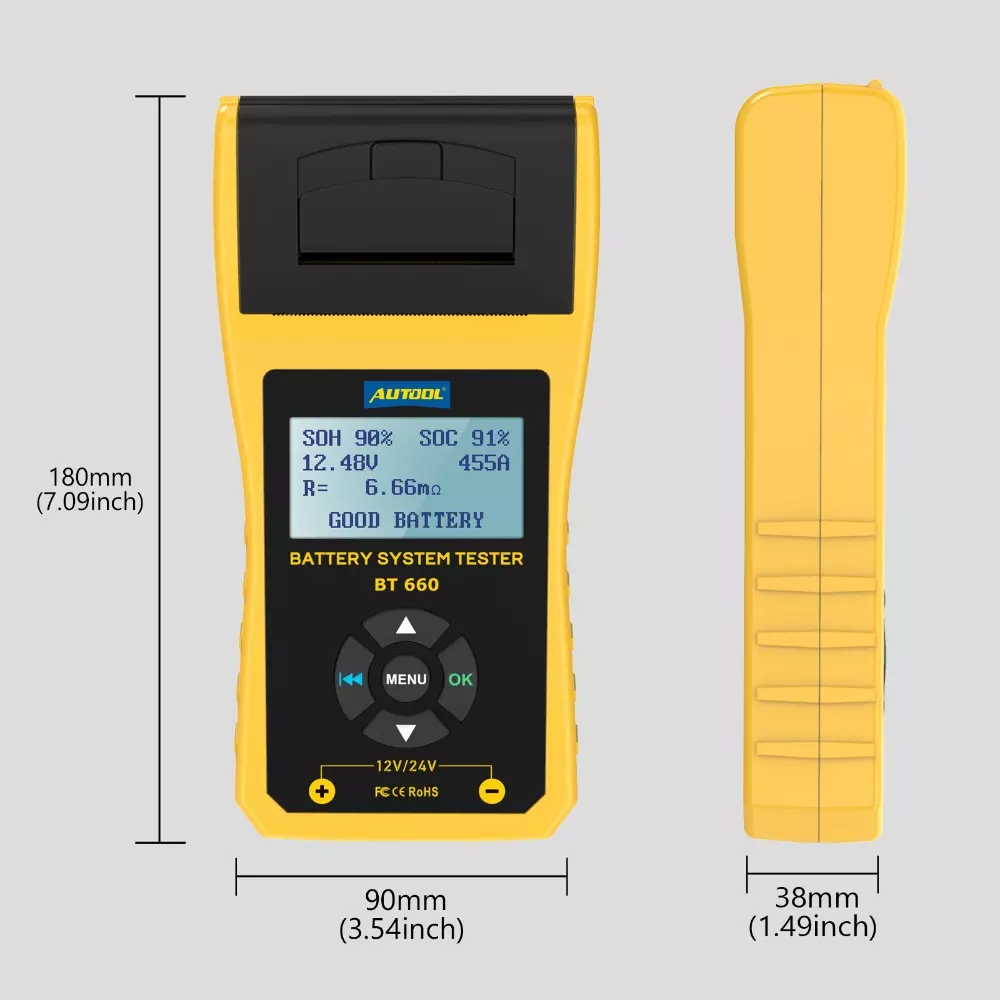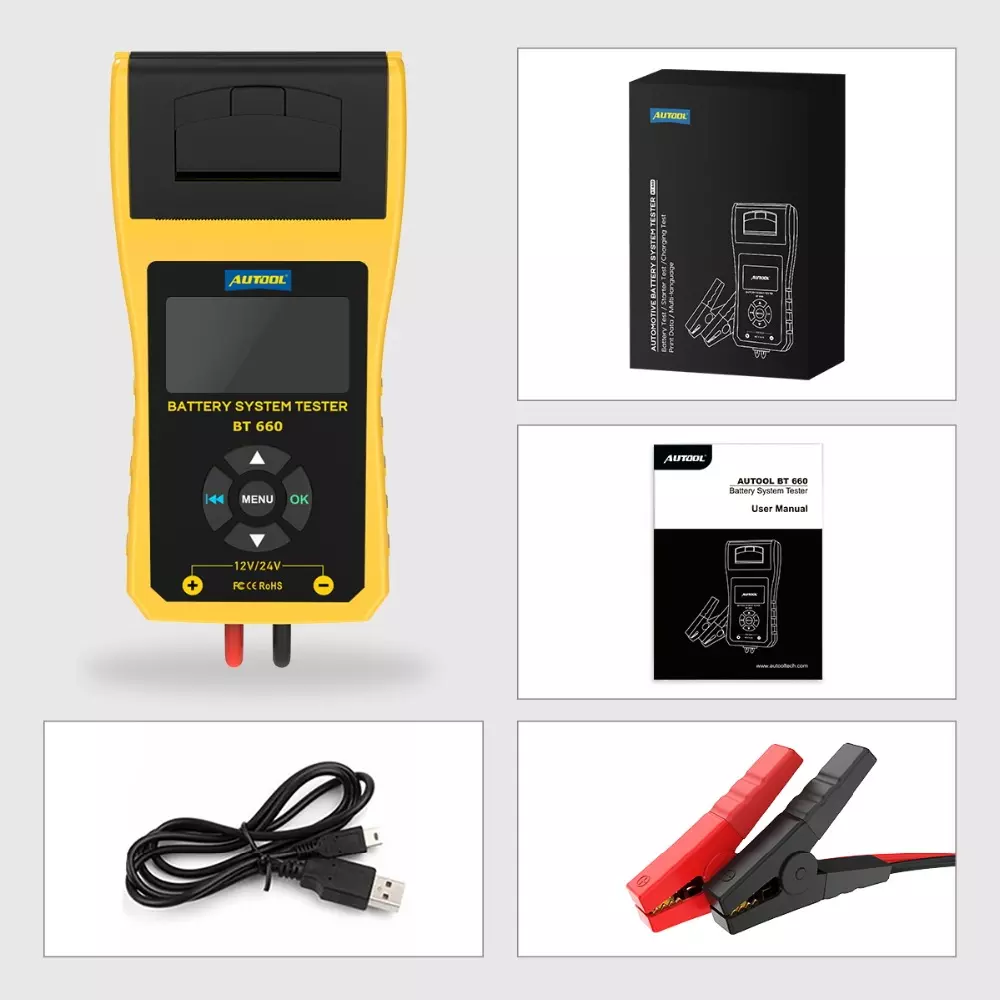 Jual Autool BT660 6-30V Battery Tester dengan harga murah dan berkualitas bergaransi tentunya. dapat di kirim ke seluruh wilayah Indonesia.

Jika anda butuh penawaran dan info Stok silahkan hubungi sales kami di No Telpon 0821 2742 8667 Telpon/SMS/Whatsapp.

Karyamandiritechindo.com Supplier dan Distributor Autool di Indonesia. Karyamandiritechindo.com menyedikakan juga berbagai merk Alat ukur & Lab, Alat Survey, Alat komunikasi dan GPS

Dalam pengiriman produk yang pelanggan beli, sebelumnya sudah kami cek untuk memastikan produk dalam keadaan baik dan siap kirim.