Product Description
CEM DT-322 Digital Thermo-Hygro Meter
This is a desktop temperature/air humidity meter for interior use. All current data displayed in large and well-arranged LCD display. It displays Time – Temperature – Air Humidity and also displays MIN/MAX measured values.
Application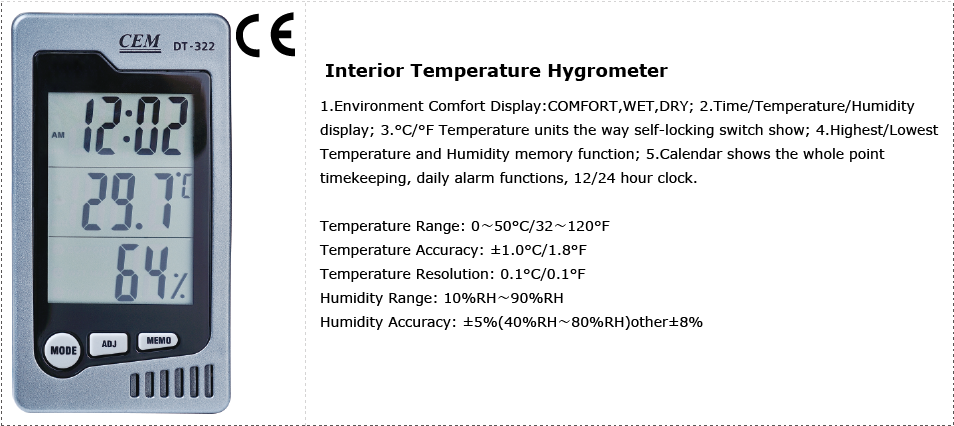 Features CEM DT-322 Digital Thermo-Hygro Meter
1.Environment Comfort Display:COMFORT,WET,DRY
2.Time/Temperature/Humidity display
3.℃/℉ Temperature units the way self-locking switch show
4.Highest/Lowest Temperature and Humidity memory function
5.Calendar shows the whole point timekeeping, daily alarm functions, 12/24 hour clock
Specifications CEM DT-322 Digital Thermo-Hygro Meter
Specifications:
Temperature Range
0~50℃/32~120℉
Temperature Accuracy
±1.0℃/1.8℉
Temperature Resolution
0.1℃/0.1℉
Humidity Range
10%RH~90%RH
Humidity Accuracy
±5%(40%RH~80%RH)other±8%
Size(HxWxD): 108mm x 60mm x 15mm
Weight: 74g
Accessories :
Battery, gift box and carrying case.
Jual CEM DT-322 Digital Thermo-Hygro Meter dengan harga murah dan berkualitas bergaransi tentunya. dapat di kirim ke seluruh wilayah Indonesia.

Jika anda butuh penawaran dan info Stok silahkan hubungi sales kami di No Telpon 0821 2742 8667 Telpon/SMS/Whatsapp.

Karyamandiritechindo.com Supplier dan Distributor CEM Instruments di Indonesia. Karyamandiritechindo.com menyedikakan juga berbagai merk Alat ukur & Lab, Alat Survey, Alat komunikasi dan GPS

Dalam pengiriman produk yang pelanggan beli, sebelumnya sudah kami cek untuk memastikan produk dalam keadaan baik dan siap kirim.