Product Description
Hioki CM3291 AC Clamp Meter
Hioki clamp meters are best-in-class measuring devices incorporating Hioki's expertise in current sensing technology. The CM3291 is a true RMS rectified 2000 A AC clamp meter that features a broad operating temperature range of -25°C to 65°C, thin and compact clamp core and optional flexible current sensor that you can attach to let you get into the tightest spots.
CAT IV 300 V
CAT III 600 V
Get into tight spaces even with large jaw
The new AC Clamp Meter CM3291 features a new and innovative jaw design that lets you get between narrow cable gaps despite the large jaw offering, improving work efficiency at the worksite. The compact meter delivers a wide measurement range from a few amperes up to 2000 A.
Features Hioki CM3291 AC Clamp Meter
AC only, measure up to 2000 A AC
-25°C to 65°C operating temperature range
Also measure resistance, continuity, AC and DC voltage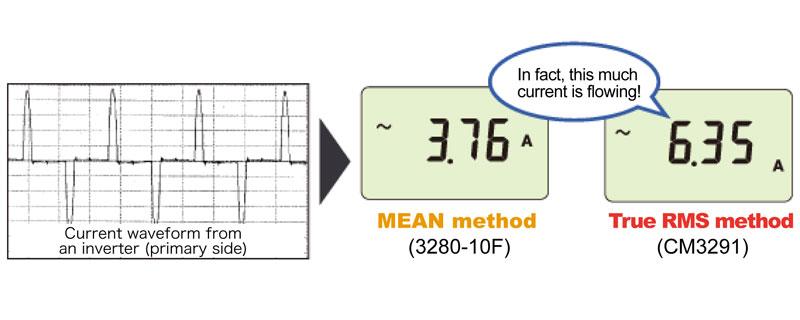 A pocket clamp meter that can use flexible sensors
When connected to an optional flexible current sensor*, the CM3291 can be used to measure the current flowing in pairs of wires or in tangled or complexly routed wires around which it was not possible to apply a clamp-on sensor in the past.
* AC FLEXIBLE CURRENT SENSOR CT6280 (4200 A AC, Φ130 mm)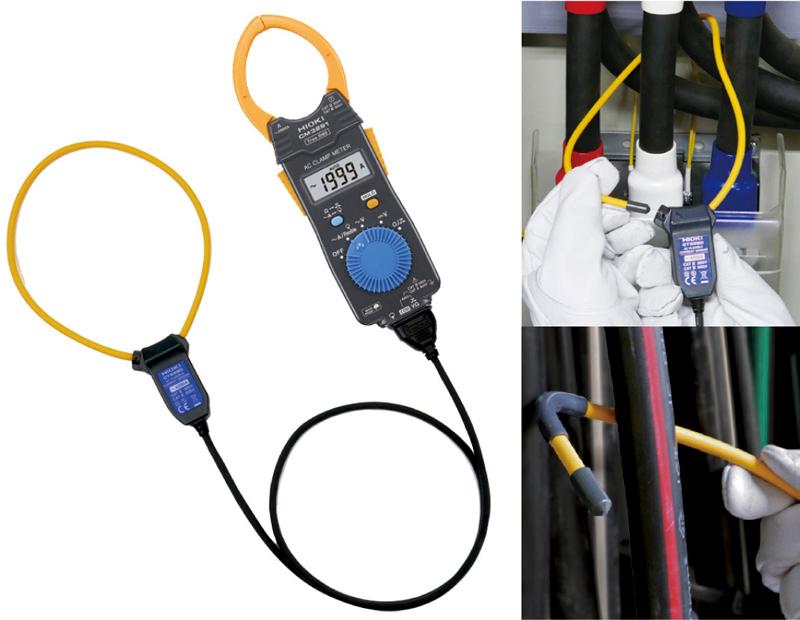 Essential for electrical work: A thin card tester that fits in the pocket with all the capabilities of a clamp meter
The CM3291 delivers all the functionality of a clamp meter and card tester in the form factor of the latter. In addition to current measurement, this single instrument delivers voltage measurement, continuity check, and resistance measurement functionality.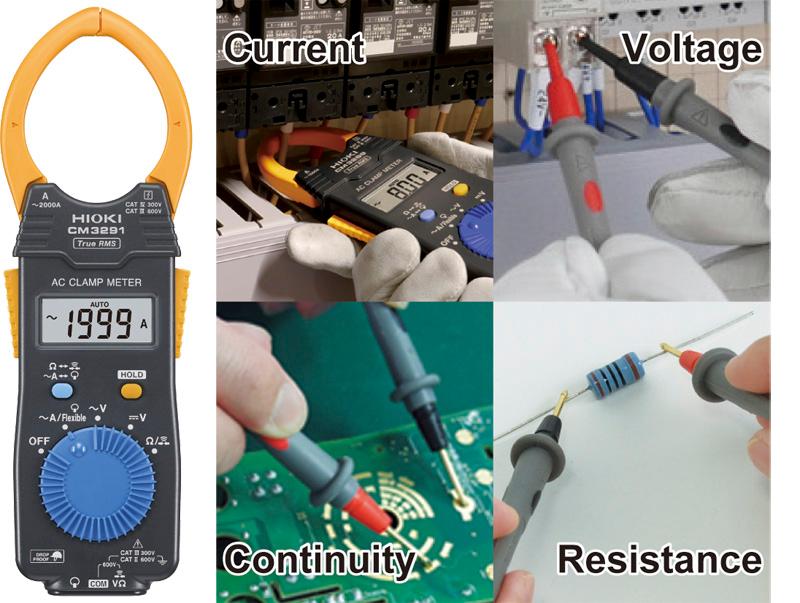 Rugged, portable design that's drop-resistant
Despite its thin, compact design, the CM3291 has an operating temperature range of -25°C to 65°C and can withstand being dropped from a height of 1 m onto concrete. It's engineered for use in tough environments.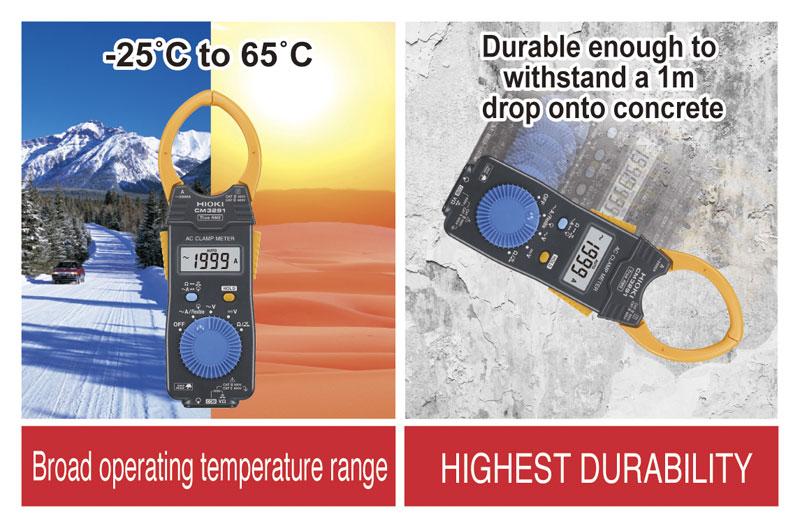 Comes with a sturdy and lightweight hard case
All accessories can be stored.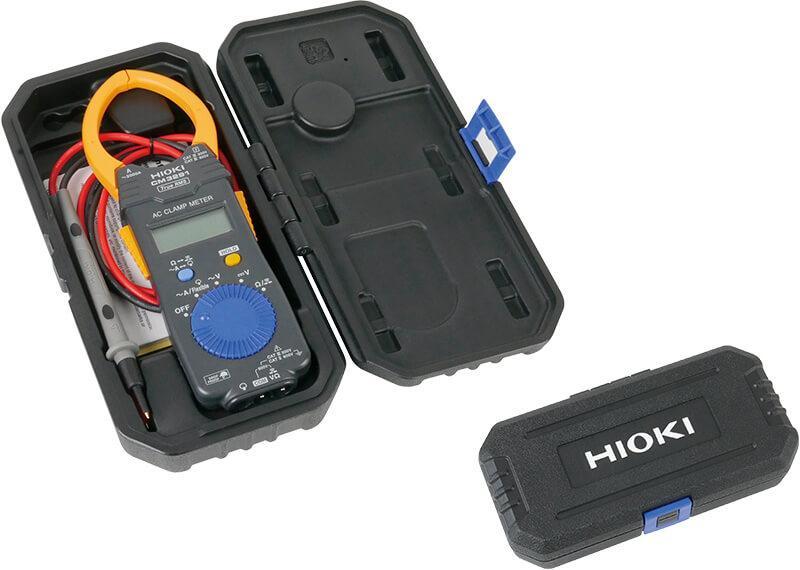 Specifications Hioki CM3291 AC Clamp Meter
AC Current range
42.00 to 2000 A, 3 ranges (40 Hz to 1 kHz, True RMS),
Basic accuracy 45-66 Hz: ±1.5% rdg. ±5 dgt.
DC Voltage range
420.0 mV to 600 V, 5 ranges, Basic accuracy: ±1.0 % rdg. ±3 dgt. (at 4.2 V range)
AC Voltage range
4.200 V to 600 V, 4 ranges (45 to 500 Hz, True RMS),
Basic accuracy 45-66 Hz: ±1.8% rdg. ±7 dgt. (at 4.2 V range)
Crest factor
For 2500 counts or less, 2.5 Reduces linearly to 1.5 or less at 4200 counts But, 1.5 or less for 2000 A ACA range
Resistance range
420.0 Ω to 42.00 MΩ, 6 ranges, Basic accuracy: ±2.0 % rdg. ±4 dgt. (at 420 Ω range)
Other functions
Continuity check: Buzzer sounds at 50 Ω ±40 Ω or less, Data hold, Auto power save, Drop-proof from height of 1 meter
Power supply
Coin type lithium battery (CR2032) ×1, Continuous use 70 hours
Core jaw diameter
φ 46 mm (1.81 in), Jaw dimension: 65 mm (2.56 in) W × 13 mm (0.51 in) D
Dimensions and mass
57 mm (2.24 in) W × 198 mm (7.80 in) H × 16 mm (0.63 in) D, 103 g (3.6 oz)
Accessories
Carrying case ×1, TEST LEAD L9208 ×1, Coin type lithium battery CR2032 (for trial purposes only) ×1, Instruction manual ×1, Download guide ×1, Operating precautions ×1
CT6280 Basic specifications
| | |
| --- | --- |
| Core jaw dia. | φ 130 mm (5.12 in) (Cable cross-section diameter: 5 mm (0.20 in); tip cap diameter: 7 mm (0.28 in)) |
| AC Current | 419.9 A/ 4199 A, 2 ranges (±3.0 % rdg. ±5 dgt.) |
| Cable length | 800 mm (31.5 in) |
Jual Hioki CM3291 AC Clamp Meter dengan harga murah dan berkualitas bergaransi tentunya. dapat di kirim ke seluruh wilayah Indonesia.

Jika anda butuh penawaran dan info Stok silahkan hubungi sales kami di No Telpon 0821 2742 8667 Telpon/SMS/Whatsapp.

Karyamandiritechindo.com Supplier dan Distributor Hioki di Indonesia. Karyamandiritechindo.com menyedikakan juga berbagai merk Alat ukur & Lab, Alat Survey, Alat komunikasi dan GPS

Dalam pengiriman produk yang pelanggan beli, sebelumnya sudah kami cek untuk memastikan produk dalam keadaan baik dan siap kirim.