Product Description
Hioki DT4222 Digital Multimeter
The Hioki DT4200 Digital Multimeter Series consist of a complete lineup of 9 models ranging from professional to industrial to pocket meters, delivering a super fast response rate and safety features that take electrical testing to a higher level. The DT4222 is a pocket-sized digital multimeter designed specifically for general purpose testing, with ±0.5% DC V accuracy and wide 40 Hz to 1 kHz AC V bandwidth.
CAT IV 300 V, CAT III 600 V
Video on how to use digital multimeters
This video introduces how to use the DT4200 series of digital testers as well as some of the instrument's featured functionality. Hioki testers are engineered to help professional electricians do their jobs safely and quickly.
Features Hioki DT4222 Digital Multimeter
Achieving a high level of safety in a compact body and lightweight design
Resistance, Capacitance measurement and diode testing (DT4222)
Robust design capable of withstanding a drop from a height of 1 m
Test leads conveniently wrap around the back
±0.5% DC V basic accuracy, wide 40 Hz to 1 kHz AC V frequency characteristics
Low-pass filter cuts high harmonics (when measuring inverter fundamental waveforms)
Broad -10 to 50°C (14°F to 122°F) operating temperature range
Pocket-sized compact digital multimeter for multiple applications
・ Resistance measurement functionality
・ Capacitance measurement functionality
・ Diode test functionality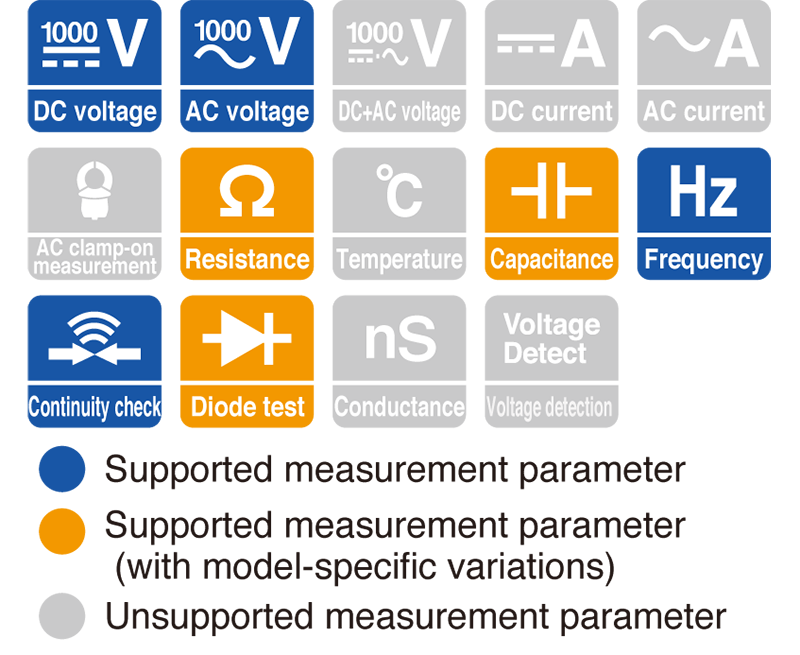 Compact and lightweight design for outstanding ease of use
The small form factor fits in your hand perfectly and is easily stowable, making it convenient to transport to and from the field and boosting work efficiency.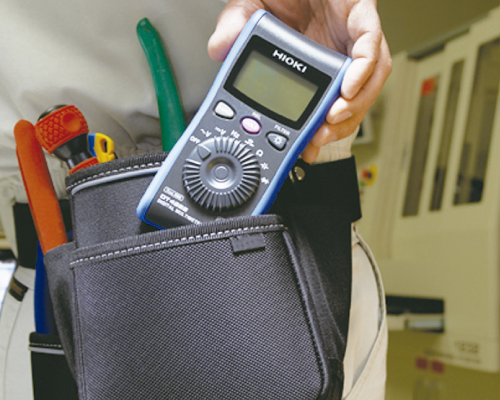 Use Single AAA alkaline battery only
Since the DT4222 only uses a single AAA alkaline battery that can be easily replaced, there's no need to carry a large number of spare batteries with you.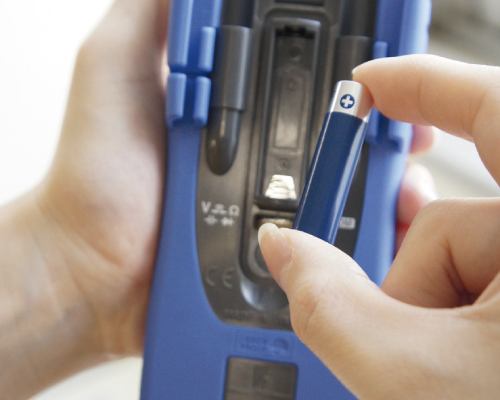 Rear probe connections for superior screen visibility and easy storage
Since this design keeps cords from covering up the screen during measurement, you can read values at a glance. After use, probes can be stored on the rear of the instrument, facilitating a smooth start to the next measurement job.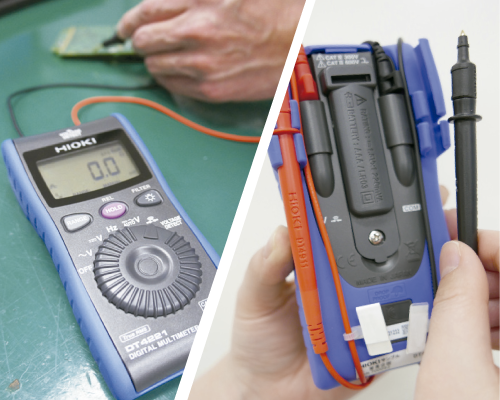 Measure output voltage on the secondary sides of inverters by eliminating harmonic components
Accurately measure the fundamental wave alone by eliminating harmonic components with the DMM's low-pass filter function.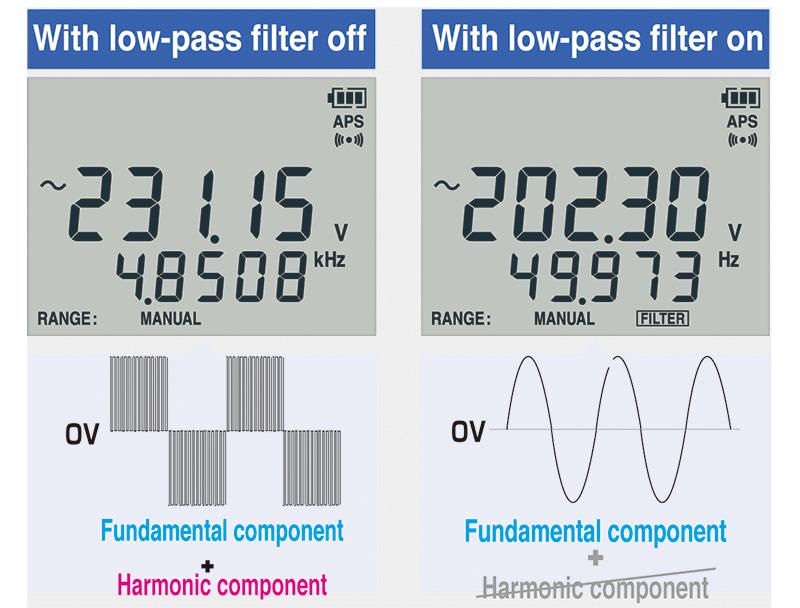 True RMS measurement for accurate measurement of even distorted current waveforms
Digital multimeters implement two types of measurement: mean-value measurement and true RMS measurement. The two methods yield significantly different measurement results for current waveforms, which are often distorted. For accurate measurement, it is necessary to use an instrument with true RMS capability.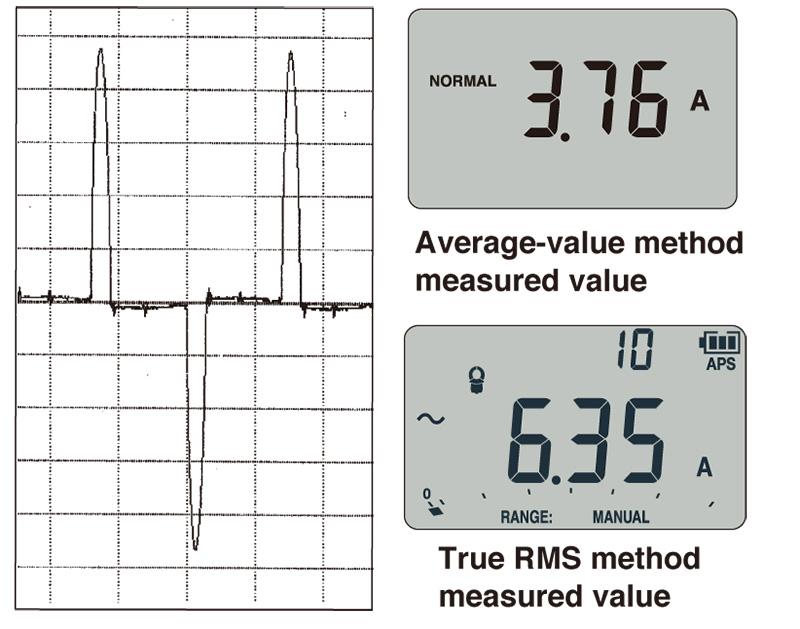 Designed and manufactured in Japan to ensure high quality and guaranteed with a 3-year warranty for peace of mind
All development, design, and manufacturing processes for almost all Hioki digital multimeters are carried out at our Head Office in Nagano Prefecture. Some of the industry's most advanced technological capabilities enable us to deliver products of the highest possible quality.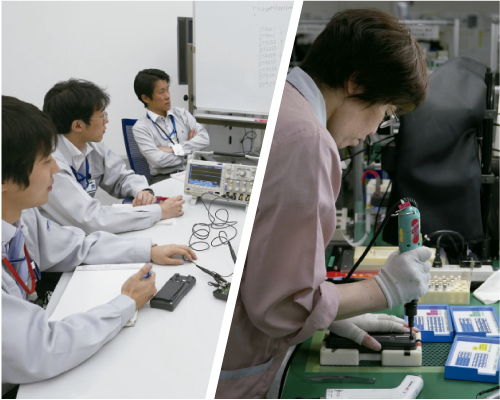 Safe measurement requires use of an instrument that suits the measurement location.
To ensure operators' ability to use measuring instruments safely, IEC 61010 classifies the locations in which instruments are used into a series of safety-based measurement categories (ranging from CAT II to CAT IV). Using an instrument that does not satisfy the required safety level can lead to an electrical accident. Despite a compact body, the DT4222 can be used to measure voltage at distribution panels.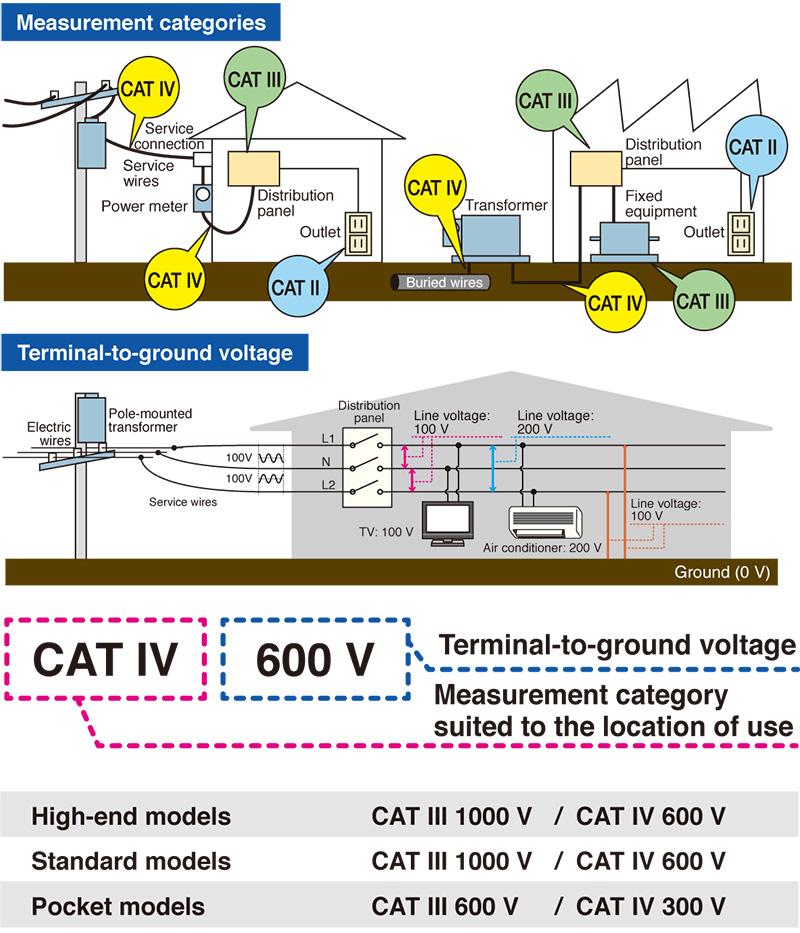 Specifications Hioki DT4222 Digital Multimeter
DC Voltage range
600.0 mV to 600.0 V, 4 ranges, Basic accuracy: ±0.5 % rdg. ±5 dgt.
AC Voltage range
6.000 V to 600.0 V, 3 ranges, Frequency characteristics: 40 Hz – 1 kHz
Basic accuracy 40 – 500 Hz : ±1.0 % rdg. ±3 dgt. (True RMS, crest factor 3)
Resistance range
600.0 Ω to 60.00 MΩ, 6 ranges, Basic accuracy: ±0.9 % rdg. ±5 dgt.
Capacitance range
1.000 μF to 10.00 mF, 5 ranges, Basic accuracy: ±1.9 % rdg. ±5 dgt.
Frequency range
AC V measurement: 99.99 Hz (5 Hz or more) to 9.999 kHz, 3 ranges
Basic accuracy: ±0.1 % rdg. ±2 dgt.
Continuity Check
Continuity threshold [ON]: 25 Ω or less (buzzer sound), [OFF]: 245 Ω or more
Response time: 0.5 ms or more
Diode test
Open terminal voltage: 2.5 V or less, Testing current 0.5 mA or less,
Threshold of forward voltage: 0.15 V to 1.5 V
Voltage Detection
N/A
Other functions
Filter function, display value hold, relative value display, auto-power save
Display
Main and Sub displays: 4-digits LCD, max. 6000 digits, bar graph
Display refresh rates
5 times/s (Capacitance measurement: 0.05 to 5 times/s, depending on measured value, Frequency: 1 to 2 time/s )
Power supply
LR03 alkaline batteries ×1, Continuous use: 40 hours (back light OFF)
Dimensions and mass
72 mm (2.83 in) W × 149 mm (5.87 in) H× 38 mm (1.50 in) D,190 g (6.7 oz) (with batteries and holster)
Accessories
Test Lead DT4911 ×1, Holster ×1, Instruction manual ×1, LR03 alkaline battery ×1
Jual Hioki DT4222 Digital Multimeter dengan harga murah dan berkualitas bergaransi tentunya. dapat di kirim ke seluruh wilayah Indonesia.

Jika anda butuh penawaran dan info Stok silahkan hubungi sales kami di No Telpon 0821 2742 8667 Telpon/SMS/Whatsapp.

Karyamandiritechindo.com Supplier dan Distributor Hioki di Indonesia. Karyamandiritechindo.com menyedikakan juga berbagai merk Alat ukur & Lab, Alat Survey, Alat komunikasi dan GPS

Dalam pengiriman produk yang pelanggan beli, sebelumnya sudah kami cek untuk memastikan produk dalam keadaan baik dan siap kirim.