Product Description
Ono Sokki HR-6800 Handheld Digital Tachometer
The HR-6800 is a non-contact type handheld digital tachometer, which can measure the high speed rotational speed at Max. 999,990 r/min with high accuracy.
In addition to the objects such as the dental hand piece or yarn texturizing machine, the non-contact rotational speed measurement of the high-speed cutting drill or high-speed motor itself is simply possible with direct reading at the unit of r/min by closing the magnetic-electro detector with magnetizing the rotated object or figure of the drill.
Wide range of the rotational speed measurement is possible from 100 r/min to 999,990 r/min. Not only analogue output (switch-able to monitor output signal) but also the pulse output signal are provided as standard.
Analogue signal can be used as recording signal to data recorder and so on. Monitor signal can be used in order to check the signal waveform or to be analyzed by FFT analyzer. Further, pulse signal can be input to FFT analyzer as external sampling signal of tracking analysis.
The measurement result can be memorized into internal memory at Max. 20 data, which is convenient for check and recording after the measurement.
Features Ono Sokki HR-6800 Handheld Digital Tachometer
· High-speed rotation measurement from 100 to 999,990 r/min
· Built-in memory function Up to a maximum of 20 data can be saved to memory.
· Both analog and pulse outputs provided as standard. Used for recording rotational speeds and as rotation synchronization signals
· Built-in peak hold function – The maximum and minimum values can be displayed during measurement.
· Large LCD with backlight
---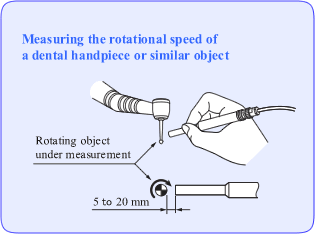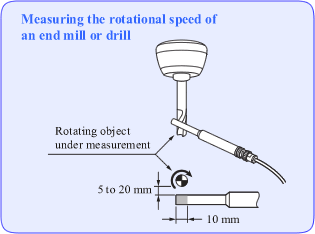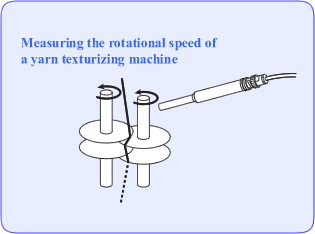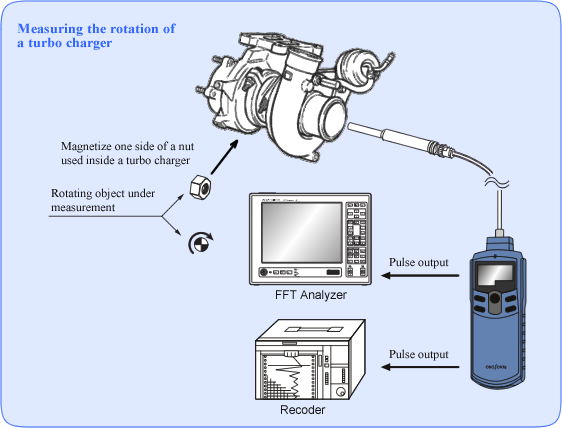 Specifications Ono Sokki HR-6800 Handheld Digital Tachometer
HR-6800 Digital Tachometer
Target measurement objects
Rotating objects used in dentistry, rotating objects used in texturizing machine, rotating objects used in high-speed machine tools

Note: Target measurement objects must be magnetized.

Display
Large-size 5-digit LCD (Character height: 10.2 mm)
Measurement time
Within 50 ms + the time required for 10 input signal cycles
Display refresh rate
Approx. 1 second or 0.5 second, selectable
Measurement unit
10 r/min (rotational speed)
Rotational speed measurement range

Selected type
Range
Rotational speed range
Type A
Hi
10,000 to 999,990 r/min
Lo
100 to 50,000 r/min
Type B
–
200,000 to 999,990 r/min

Note: When the number of pulses setting is "1".

Measurement accuracy
Displayed value x ( ± 0.02 %) ± 1 count
Peak hold function
Maximum value (MAX), minimum value (MIN)
Memory function
Up to a maximum of 20 data
Over-range display
An "ERROR" mark is displayed when the measured value exceeds the measurement range.
Rotation upper limit alarm function
An upper limit alarm mark ( ↑ mark) is displayed when the rotational speed exceeds the preset upper limit value.
Analog output
Output in proportional to the displayed rotational speed values.
Output voltage: 0 to 1V / 0 to F.S. (F.S. is specified by user.)
Output update time: Within 50 ms + the time required for 10 input signal cycles
Monitor output
Analog output after the sensor signal waveform has been shaped.
(prior to pulse waveform conversion)
Pulse output
One pulse per signal detected
Output voltage: Hi level; At least 4.5 V
Lo level; Up to 0.5 V
Power source
Four AAA-type batteries (1.5 V) or exclusive AC adapter (PB-7090, sold separately)
Battery life
Approx. 13 hours (when the backlight is OFF.)
Approx. 8 hours (when the backlight is ON.)
(when alkaline batteries are used at 20°C)
Operating temperature
0 to +40°C
Storage temperature
-10 to +50°C
Outer dimensions
66 (W)  x  189.5 (L)  x  47.5 (D)  mm
Weight
Approx. 280 g (including the batteries)
Accessories

AAA-type batteries 4 pieces
Tripod mounting adapter (MI-0301) 1 piece
Carrying case
MP-5350 ElectroMagnetic Detector
Detection method
Electromagnetic induction
Connection cable
(provided as standard)
1-m length (with a BNC connector at both ends)
Operating temperature
0 to +40 °C
Storage temperature
-10 to +50 °C
Outer dimensions
107 x Φ14 mm
Weight
Approx. 50 g (excluding signal cable)
Jual Ono Sokki HR-6800 Handheld Digital Tachometer dengan harga murah dan berkualitas bergaransi tentunya. dapat di kirim ke seluruh wilayah Indonesia.

Jika anda butuh penawaran dan info Stok silahkan hubungi sales kami di No Telpon 0821 2742 8667 Telpon/SMS/Whatsapp.

Karyamandiritechindo.com Supplier dan Distributor Ono Sokki di Indonesia. Karyamandiritechindo.com menyedikakan juga berbagai merk Alat ukur & Lab, Alat Survey, Alat komunikasi dan GPS

Dalam pengiriman produk yang pelanggan beli, sebelumnya sudah kami cek untuk memastikan produk dalam keadaan baik dan siap kirim.