Product Description
CEM DT-157 Coating Thickness Tester
This compact & handy Professional Gauge is designed for non-destructive, fast and highly accurate/precise coating thickness measurement. The principal applications lie in the field of corrosion protection. Ideal for manufacturer, offices & specialist advisers, paint shops & electroplaters, chemical, automobile, shipbuilding and aircraft industries including light & heavy engineering.
DT-157 gauge are suitable for laboratory, workshop & outdoor use. It works either on magnetic induction principle and on eddy current principle, depends on probe used. DT-156 uses only 1 probe for both ferrous & non-ferrous metal substrates. Probe can be selected manually or automatically.
Stores 2500 memory values and display 5 statistics ( AVG, MAX, MIN, S.DEV and Number of reading in work mode). It comes with Bluetooth interface for transferring collected data to computer for later analysis or data printing.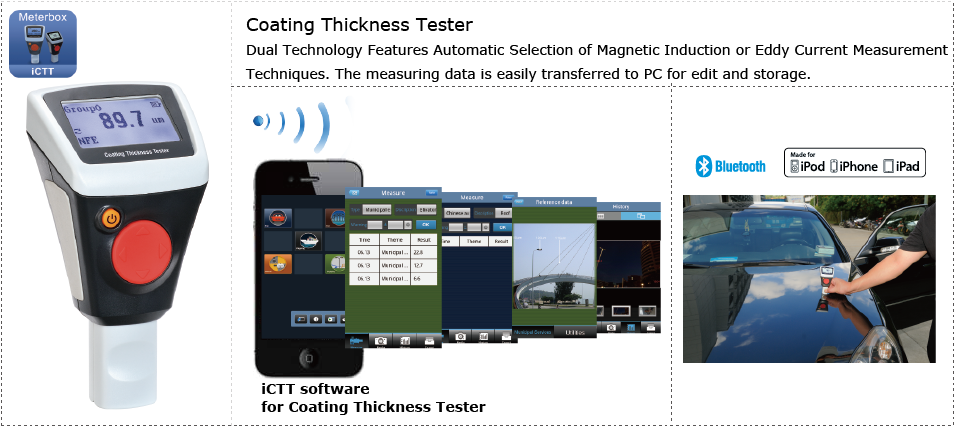 Features CEM DT-157 Coating Thickness Tester
Non-magnetic coatings (e.g. paint, zinc) on steel
Insulating coatings (e.g. paint) on no-ferrous metals
No-ferrous metals coatings on insulating substrates
Menu operation system
Two working modes: DIRECT and GROUP mode
Statistic Display: AVG, MAX, MIN, NO., S.DEV
One point calibration, two points calibration and basic calibration easily
Delete single readings and all group readings easily
Low battery, error indication
Memory for 2500 readings (50 GROUP readings)
4 levels of battery indication
Error indication
Bluetooth interface
Easily adapt to lighting conditions with 8 levels of backlight
Size (H x W x D) : 120mm x 60mm x 40mm
Weight : 120g
---
Produk asli Kami distributor langsung CEM Instruments . Harga murah dan berkualitas bergaransi tentunya. dapat di kirim ke seluruh wilayah indonesia.
Dalam pengiriman produk yang pelanggan beli, sebelumnya sudah kami cek untuk memastikan produk dalam keadaan baik dan siap kirim.
---