Product Description
Hioki 3490 Analog MΩ HiTester
Hioki insulation testers or megohmmeters feature all-in-one designs including built-in rugged cases and test lead storage compartments. The 3490 is a 3-range, 250/500/1000V analog insulation resistance meter with efficient functions and features to help shorten work time associated with field insulation testing.
CAT III 600 V
Features Hioki 3490 Analog MΩ HiTester
3-range testing voltage of 250/500 V (insulation resistance testing up to 100 MΩ), and 1000 V (insulation testing up to 4000 MΩ)
Continuity check at 3 Ω range via 200 mA testing
Bright LED luminous scale
Check for live circuits and battery status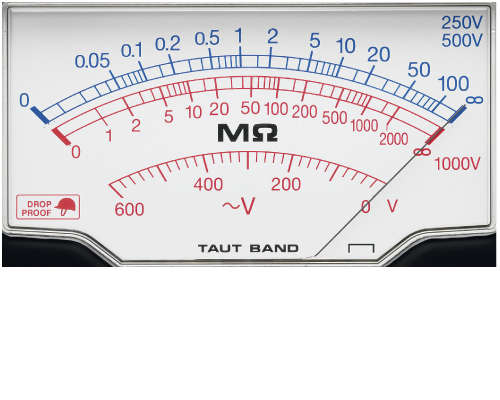 Robust, damage-resistant design
These instruments feature a robust design that can withstand being dropped onto concrete from a height of 1 m. Difficult to damage, this insulation tester is ideal for use in the field.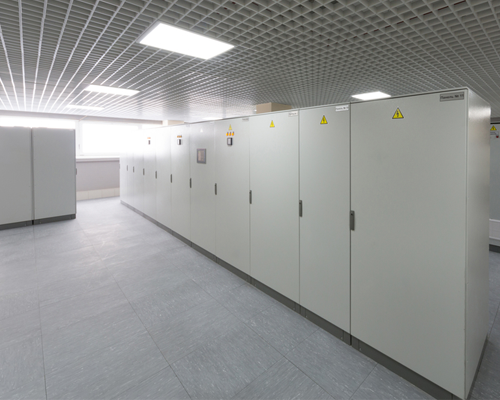 White LED lighting that's easy to read in dim locations in the field
The scale is lit by a white LED, ensuring that insulation resistance values are easy to read, even when using the instrument in a dim location.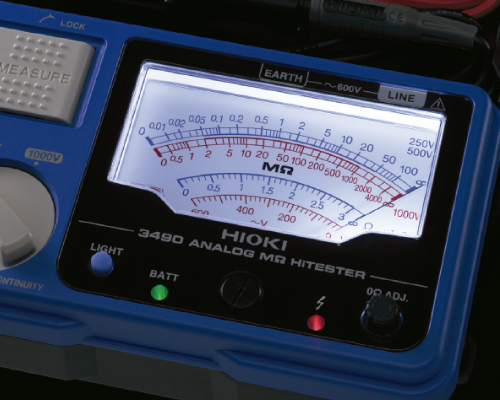 Continuous monitoring of battery life
You can keep track of remaining battery life since it's shown on the LED, eliminating the need to worry about sudden loss of battery power in the field.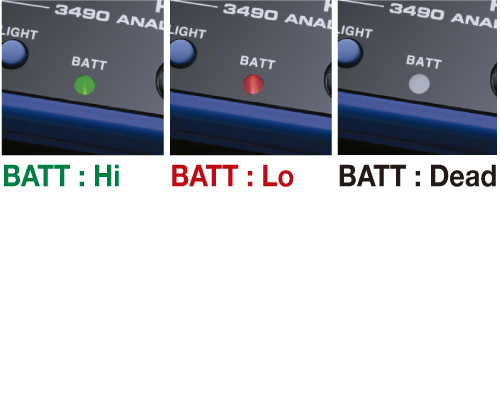 Measurement switch designed for outstanding ease of use
The instrument's measurement switch can be operated with just the thumb. Press for a single measurement or lift up for continuous measurement of insulation resistance.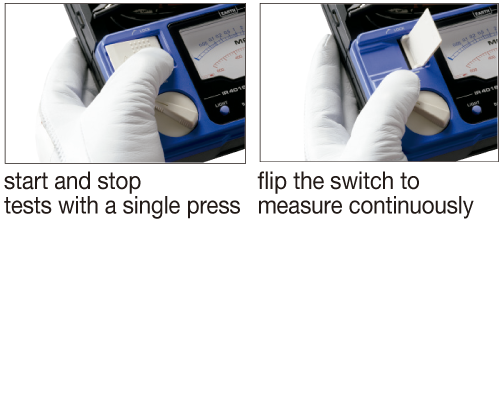 Remote control to start and stop insulation resistance measurement from the leads
By using switch-equipped measurement leads, you can start and stop insulation resistance measurement remotely. There's also a handy light for improved convenience when working in dim locations.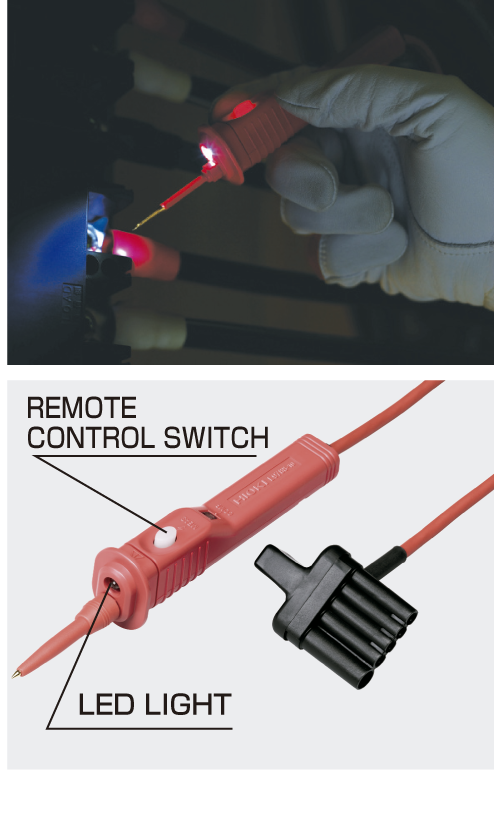 Function rotary switch designed for maximum safety
This insulation tester has voltages grouped by application with an "OFF" position between them to help keep users from inadvertently applying the wrong voltage.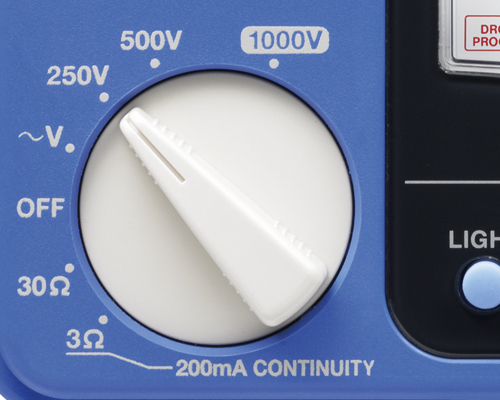 Specifications Hioki 3490 Analog MΩ HiTester
Rated output voltage
250 V DC
500 V DC
1000 V DC
Effective maximum indicated value
100 MΩ
100 MΩ
4000 MΩ
Accuracy
1st effective measuring range
±2 % of scale length
0.05 to 50 MΩ
±2 % of scale length
0.05 to 50 MΩ
±2 % of scale length
2 to 1000 MΩ
Lower limit resistance
0.25 MΩ
0.5 MΩ
1 MΩ
(Measurement resistance value to maintain testing voltage)
Overload protection
660 V AC (10 sec.)
Low resistance range
3 Ω (at 200 mA testing current), ±0.09 Ω accuracy,
30 Ω (at 20 mA testing current), ±0.9 Ω accuracy,
Open-circuit voltage: 4.1 to 6.9 V
AC voltage range
0 to 600 V (50/60 Hz), ±5 % of maximum scale value accuracy,
100 kΩ or more input resistance
Other functions
Bright LED luminous scale, Drop proof (on concrete, 1 m/1 time), Battery check, Live circuit check, Auto discharge
Power supply
LR6 (AA) alkaline batteries ×4, Continuous use: 20 hours (at 500 V range, no load)
Dimensions and mass
159 mm (6.26 in)W × 177 mm (6.97 in)H × 53 mm (2.09 in)D, 610 g (21.5 oz), (including battery, excluding test lead)
Accessories
Test lead L9787 ×1, Instruction manual ×1, Shoulder strap ×1, LR6 (AA) alkaline batteries ×4
Jual Hioki 3490 Analog MΩ HiTester dengan harga murah dan berkualitas bergaransi tentunya. dapat di kirim ke seluruh wilayah Indonesia.

Jika anda butuh penawaran dan info Stok silahkan hubungi sales kami di No Telpon 0821 2742 8667 Telpon/SMS/Whatsapp.

Karyamandiritechindo.com Supplier dan Distributor Hioki di Indonesia. Karyamandiritechindo.com menyedikakan juga berbagai merk Alat ukur & Lab, Alat Survey, Alat komunikasi dan GPS

Dalam pengiriman produk yang pelanggan beli, sebelumnya sudah kami cek untuk memastikan produk dalam keadaan baik dan siap kirim.