Product Description
Process Calibrator LB06
This multifunctional Process Calibrator is compact, sturdy, and easy to use.
Can function as Signal Generator, Process Calibrator, and Digital Multimeter
Support standard MODBUS Master, MODBUS Slave, Hart communicator/operator
Features Process Calibrator LB06
Pocket portable size: 120x76x30mm, put it into your pocket, save energy, save cost, easy to carry.
High accuracy 0.025%+1/2 digits, high reliability and stability.
Signal output & simulation: 0/4-20mA source or passive, 0-11V, 0-110mV, 20-400Ω, R, E, S, K, J, B, T, N type thermocouple, PT100, CU50, 24V outputs, frequencies, etc.
Measurement: 0-30V, 0-150mV, 0-999.9Ω, R, E, S, K, J, B, T, N type thermocouple, PT100, CU50, 24V, 0-24mA, Ohm, frequency etc.
Support standard MODBUS Master, MODBUS Slave, Hart communicator/operator.
High resolution LCD display, have back light for different lighting conditions, large screen clear display.
Fast response, no delay in signal source simulation and signal testing or measurement.
Have charging and status indicator to check the battery status easily.
Can be used as signal generator, multifunction process calibrator and digital multimeter.
Have description in V, mV, mA, RTD, TC, Step, , Hz, MODBUS, Hart keys, it enables user to operate it easily.
DC voltage, mV small signal, resistance signal, dc current, thermocouple, RTD thermal resistance signal output and measurement, it equals to a process calibrator and digital multimeter.
AD, DA, reference voltage, OP circuits are used to ensure all high accuracy, high performance and high stability
Using 4 units of PPTC and a quick-break fuse to protect the instrument from damaged by high voltage.
Output Function
 FUNC
 OUT UNIT
 SET  RANGE
 SET STEP
 ACCURACY
 DC.V
 V
 0~11.00V
 0.01/0.1/1
0.025%+1
 DC. mV
 mV
 0~110.00mV
 0.1/1/10
 0.025%+2
 Ω
 Ω
 20~400Ω
 1/10/100
0.025%+0.3Ω (0.2-3mA excitation current, lead resistance is not included)
 DC. mA
 mA
 0~24.00mA
 0.01/0.1/1/4
 0.025%+1 (active, passive, other programmable current signal output.)
TC
 R
 0~1700℃
 1/10/100
 0.1%+3
 S
 0~1600℃
 0.1%+3
 B
 500~1800℃
 0.1%+3
 K
 -200~1370℃
 0.1%+1
 E
 -200~1000℃
 0.1%+1
 J
 -200~1200℃

Packing contents:
LB06 Process Calibrator
Pen Probes
USB Cable
User Manual
Pouch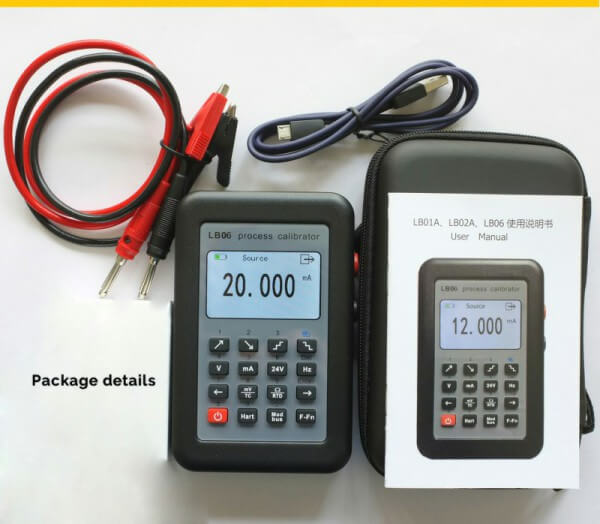 ---
Produk asli Kami distributor langsung Process Calibrator . Harga murah dan berkualitas bergaransi tentunya. dapat di kirim ke seluruh wilaya indonesia.
Dalam pengiriman produk yang pelanggan beli, sebelumnya sudah kami cek untuk memastikan produk dalam keadaan baik dan siap kirim.
---