Product Description
South NTS-332R10 Total Station
Karya Mandiri Techindo has a wide range of South products – search by type, or model, or filter by brand to find the one you are after. If you still can't find it contact us..
2" Angle Accuracy
Upgraded EDM with 1000m non-prism range
Please don't hesitate to call us @0265 3171044
Simple but practical onboard software
OR wa us @0813-9895-5475
Easy-to-read LCD screen
Easy connectivity by USB and Bluetooth
Features South NTS-332R10 Total Station :
Fast and Powerful Reflectorless EDM
Fast and accurate 1000m reflectorless range.
Fast distance measurement of 1.2s.
Smaller laser pointer for minimal measuring error.
Easy-to-Read LCD Screen
With ergonomic keypad, NTS-332R10 provides a comfort user experience when operation, regardless of environment.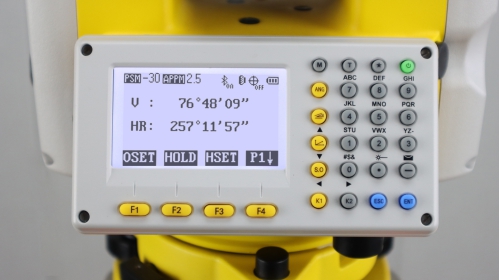 Simple But Practical Onboard Software
NTS-332R10 offers a quick response and clear feedback for its onboard software, like data input, measurement, stake out and roads.
Easy Connectivity
USB memory stick
Bluetooth transfer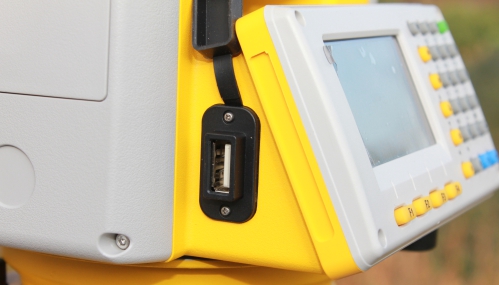 Specifications South NTS-332R10 Total Station :
Distance Measurement
Reflectorless
1000m
Single Prism
5000m
Accuracy: Non Prism
3+2ppm
Accuracy: Prism
2+2ppm
Sheet
3+2ppm
Measurement Time
1.2s in fine
0.2s in tracking
Atmospheric Correction
Manual input, Auto correction
Prism Constant
Manual input, Auto correction
Temperature Correction
Manual input, Auto correction
Distance Reading
Max: 99999999.999 Min: 1mm
Angle Measurement
Accuracy
2″
Method
Absolute, continuous
Disk Diameter
79mm
Detection Method
V: Dual, H: Dual
Angle Reading
Min: 1″
Telescope
Image
Erect
Tube Length
152mm
Effective Aperture
45mm (EDM 47mm)
Magnification
30x
Field Of View
1°30′
Resolving Power
3″
Minimum Focus Distance
1.5m
Muitiple/Additive Constant
100/0
Keyboard And Display
Keyboard
Alphanumeric 28 Keys
Display
2.7 inches Black & White LCD
Resolution
160*96 dpi
Position
Face 1, Face 2
Operation System
Operation System
None
Processor
None
Memory
16000 points
Interface
WIFI
None
Bluetooth
None
SD Card
None
Serial Port
None
Mini USB
None
Mirco USB
Yes
USB Flash Disk
None
SIM Card
None
Compensator
System
Liquid, Dual axis
Working Range
±6′
Accuracy
1″
Plummet
Laser Plummet (Default)
Accuracy
±1.5mm @1.5m
Laser Brightness
5 levels adjustable
Wavelength
635nm
Laser Class
Class 2
Laser Power
0.5mW
Optical Plummet (Optional)
Image
Erect
Magnification
3x
Focusing Range
0.5m ~ ∞
Field Of View
5″
Accuracy
–
Battery
Type
Lithium
Voltage
7.4V
Operating time
8 hours
Vial
Plate Vial
30″ /2mm
Circular Vial
8′ /2mm
General
IP Rate
IP54
Temperature Range
-20°C — +50°C
Dimension
206*200*353mm
Weight
6.0kg
Others
–
Others
–
Others
–
Including

unit

South NTS-332R10
Batterai
Charger
flashdisck + software
Prisma Single
Prisma Polygon
Pole / Stick Prisma
Alumunium Tripod
Sertifikat Kalibrasi
Garansi 1tahun
1
1
1
1
1
1
1
2
1
1
PERAWATAN : 
Selain dikalibrasi rutin ada baiknya untuk perawatan hariannya, setelah theodolite digunakan dilap dari kotoran atau debu yang menemepel menggunakan kain bersih atau majun dengan sedikit minyak kayu putih.
MANFAAT KALIBRASI : 
Menjaga kondisi instrumen ukur dan bahan ukur agar tetap sesuai dengan spesefikasinya
Untuk mendukung sistem mutu yang diterapkan di berbagai industri pada peralatan laboratorium dan produksi yang dimiliki.
Bisa mengetahui perbedaan (penyimpangan) antara harga benar dengan harga yang ditunjukkan oleh alat ukur.
Kalibrasi Sebaiknya Dilakukan Secara Rutin & Berkala, Baiknya Alat Itu Dikalibrasi Per 6 Bulan Sekali Atau Waktu Pemakaian Alat Sudah Mencapai 1.000 jam.
---
---
Produk asli Kami distributor langsung South . Harga murah dan berkualitas bergaransi tentunya. dapat di kirim ke seluruh wilaya indonesia.
Dalam pengiriman produk yang pelanggan beli, sebelumnya sudah kami cek untuk memastikan produk dalam keadaan baik dan siap kirim.
---