Product Description
Hioki CM3286 AC Clamp Power Meter
Hioki clamp meters are best in class handheld current and voltage meters for safely and accurately measuring power lines. The CM3286 clamp on power meter can measure voltage, current, power, power factor, phase angle, reactive power or frequency, as well as detect phase sequence on live lines at any desired point of a single-phase circuit or three-phase circuit.
CAT IV 600 V, CAT III 1000 V
Features Hioki CM3286 AC Clamp Power Meter
Display four parameters simultaneously
A handheld power meter that measures from 5 W of power and 60 mA of current
Measure power ranging from 5 W at a low current of 60 mA to 360 kW
In addition to current, voltage, and power, measure simple integral power consumption and phase sequence
Features and functions deliver fast and efficient testing
Transfer measured values to tablets and smartphones using free app "GENNECT Cross", quick and easy data recording (CM3286-01 only)
Good Design Award 2017
Comment from the Good Design Award 2017
"The CM3286/CM3286-01 offers an extensive range of measurement functionality in a compact footprint, most notably the ability to check for electricity theft in emerging nations. The award recognizes how the product has carried on Hioki's proven clamp meter design while offering the functionality and ease of use that customers have come to expect from such instruments, along with a highly socially significant design that demonstrates an understanding of how workers check for electricity theft in emerging nations and applies the results of observing how such products are used in the field in order to create a more useful instrument. One hopes that the product will serve to eliminate the problem of electricity theft."
Broad measurement range
Delivering a broad range of measurements at sites from manufacturing plants to households
Accurately measure power from 5 W at a current as low as 60 mA to 360 kW at a maximum of 600 A (single-phase power measurement)
<Measurement line>
Measure power in single-phase to balanced three-phase circuits (with estimated values)
(1-phase/ 2-wire, 1-phase/ 3-wire, balanced 3-phase/ 3-wire, and balanced 3-phase/ 4-wire)
*The instrument generates estimated power values when measuring 3-phase circuits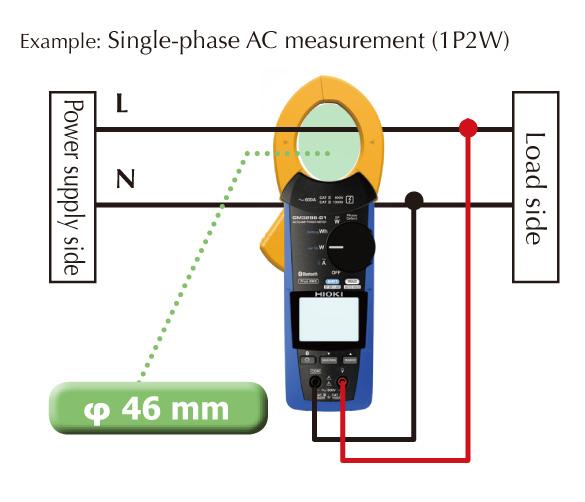 Easy-to-see display
Related parameters and connection locations shown on the display at once (Main parameter×1, Sub-parameter×3)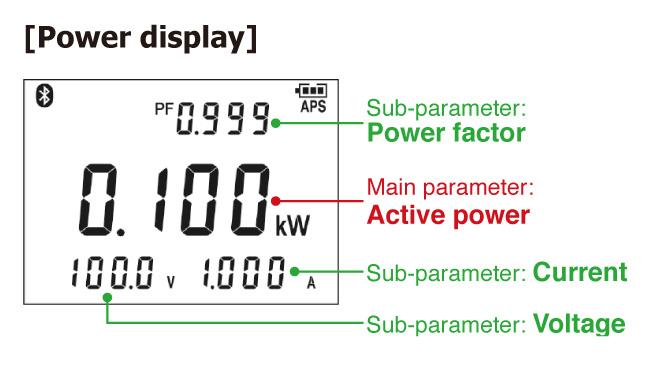 Instantly create reports by a free app (GENNECT Cross) *CM3286-01 only
GENNECT Cross, a free app designed specifically for use with Hioki measuring instruments, lets you check and manage measurement results and create reports.
The software provides a range of functionality that helps manage data in the field, including photographing measurement sites, placing measurement results on photographs, and saving hand written memos.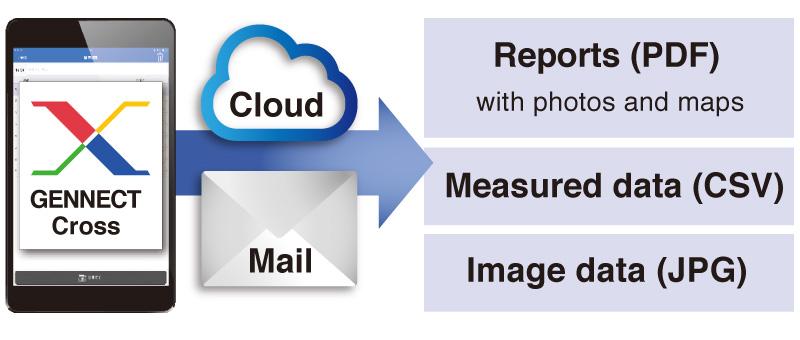 Simple wiring guide
The CM3286 provides a simple on-screen guide indicating how to connect it to a 3-phase circuit.
Built-in AUTO HOLD function
The clamp meters beep when the measured value stabilizes and then automatically hold the display value.
This is useful when using the instrument in locations where it is difficult to see the display or press the hold button.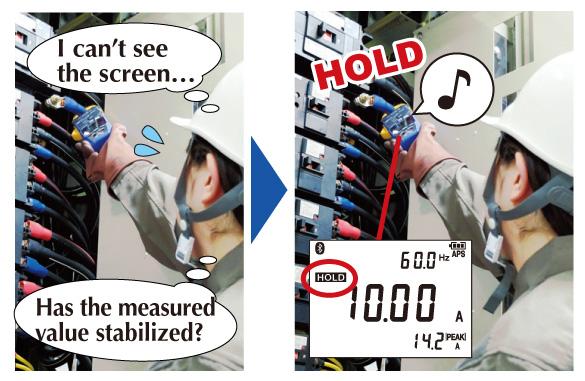 Double warnings with sound and light
When the clamp power meter detects excessively over current or voltage input during a continuity check, it alerts you with a red backlight and beeping tone in order to help prevent accidents.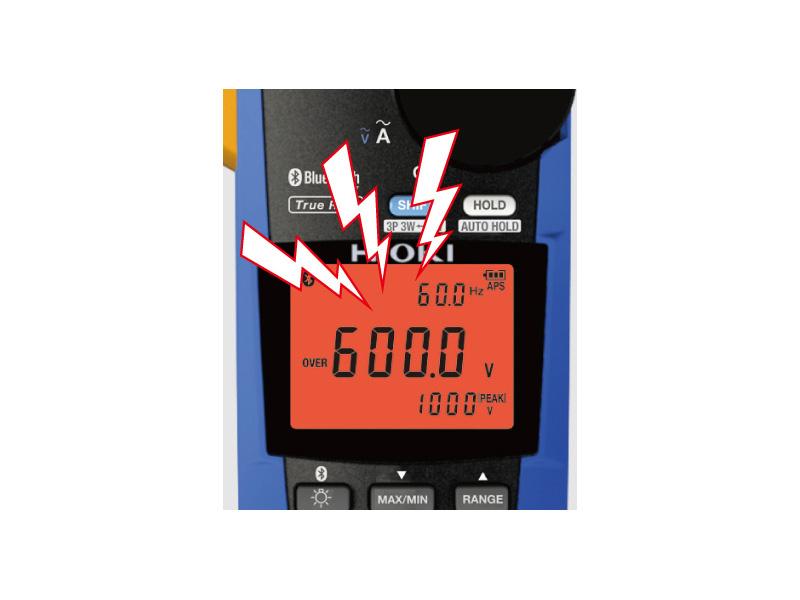 Quickly check for unbalance
The CM3286 can measure unbalanced power in a 3-phase/ 3-wire circuit by measuring the single-phase power twice and then automatically adding the results.
(The instrument can also measure 3-phase/4-wire circuits in three separate measurements.)

Easily check power supply fluctuations
Since it can display maximum (MAX), minimum (MIN), and average (AVG) values, the CM3286 is useful when you need to ascertain the magnitude of fluctuations.
And since it can also measure crest (PEAK) values, you can use it to check fluctuations at the crest value level.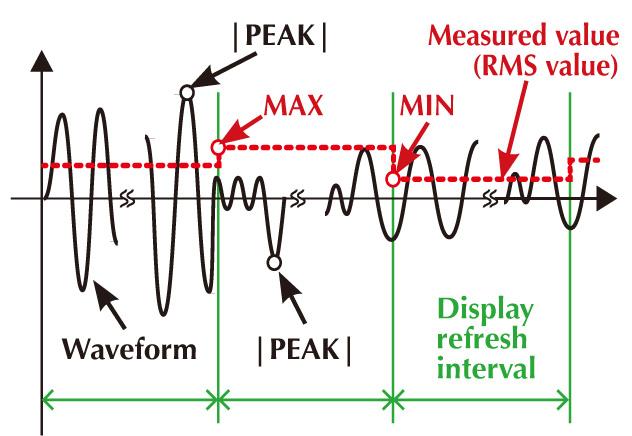 Support for large-diameter, high-current measurement
The CM3286 can be used with the optional Clamp On Adapter 9290-10 to measure busbars of up to 55 mm in diameter or 80 × 20 mm.
Measure high currents of up to 1000 A AC (or 1500 A for up to 5 min.).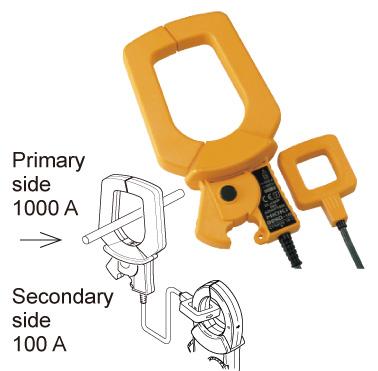 Accurately detect electricity theft
The CM3286 is ideal for verifying electricity theft since it can measure both AC power and current.
● Meter tampering: Detect by comparing electric meter readings and measurements
Proper operation of electric meters can be confirmed by comparing meter readings and actual values.
● Direct theft: Detect by measuring current
Electricity theft can be detected by measuring current on the power supply side of the illegal connection.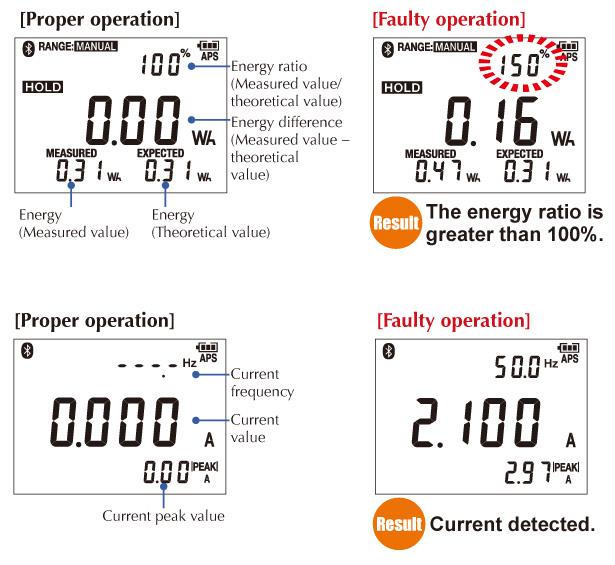 Electricity theft detection-and-report function (CM3286-01 only)
The instrument's electricity theft detection-and-report function can be used to quickly and easily make measurements and generate reports (CM3286-01 only).
Simply follow the measurement procedure to take measurements and photographs at four locations and the instrument will automatically generate a report, complete with photos.
Since the report is generated automatically in the field based on captured measurement data, it's impossible for others to alter the data.
Specifications Hioki CM3286 AC Clamp Power Meter
Measurement line
Single-phase, Three-phase (balanced with no distortion)
Measurement items
Voltage, Current, Voltage/ current peak, Active/ reactive/ apparent power, Power factor, Phase angle *1, Frequency, Simple Active Energy Consumption (Single-phase) [CM3286-01 only*2] Voltage/ current harmonic levels
AC voltage range
[Measurement range] 80.0 V to 600.0 V, Single range,
Basic accuracy 45 – 66 Hz: ±0.7% rdg. ±3 dgt.
(Frequency characteristics: 45 to 1 kHz, True RMS)
AC current range
[Measurement range] 0.060 A to 600.0 A, 3 range, Basic accuracy:
±1.3% rdg. ±3dgt. (Frequency characteristics: 45 to 1 kHz, True RMS)
Power range
[Single phase] 0.005 kW to 360.0 kW
Basic accuracy: ±2.0% rdg. ±7 dgt. (50/ 60 Hz, Power factor=1)
[Balanced three-phase 3-wire] 0.020 kW to 623.5 kW
Basic accuracy: ±3.0% rdg. ±10 dgt. (50/ 60 Hz, Power factor=1)
[Balanced three-phase 4-wire] 0.040 kW to 1080 kW
Basic accuracy: ±2.0% rdg. ±3 dgt. (50/ 60 Hz, Power factor=1)
Harmonic levels
(CM3286-01 only *2)
Voltage/ current harmonic levels up to 30th, Content factor,
Total harmonic distortion ratio
Other functions
[Phase angle *1] lead -180.0° to lag 179.9°, [Power factor] -1.000 to 1.000 [Frequency] 45.0 Hz to 999.9 Hz, PEAK, Phase detection, Max / Min / Avg value display, Auto hold, electric meter comparison, unbalanced 3-phase power estimate display, etc.
Dustproof and waterproof
IP54 (EN60529) Grip, excluding lever
Risk of electric shock from measured conductors increases when wet
Interface
Bluetooth® 4.0LE, display measured values on an iOS or Android device
Power supply
LR03 Alkaline battery ×2, Continuous use: 25 hr (Backlight OFF)
Core jaw dia.
φ 46 mm (1.81 in)
Dimensions and mass
82 mm (3.23in) W × 241 mm (9.49in) H × 37 mm (1.46in) D, 450 g (15.9 oz)
Accessories
Connection cord L9257 ×1, LR03 Alkaline battery ×2, Carrying case C0203 ×1, Instruction manual ×1
[CM3286-01 only]Notice Regarding Equipment That Emits Radio Waves ×1
Jual Hioki CM3286 AC Clamp Power Meter dengan harga murah dan berkualitas bergaransi tentunya. dapat di kirim ke seluruh wilayah Indonesia.

Jika anda butuh penawaran dan info Stok silahkan hubungi sales kami di No Telpon 0821 2742 8667 Telpon/SMS/Whatsapp.

Karyamandiritechindo.com Supplier dan Distributor Hioki di Indonesia. Karyamandiritechindo.com menyedikakan juga berbagai merk Alat ukur & Lab, Alat Survey, Alat komunikasi dan GPS

Dalam pengiriman produk yang pelanggan beli, sebelumnya sudah kami cek untuk memastikan produk dalam keadaan baik dan siap kirim.