Product Description
Hioki CM4003 AC Leakage Clamp Meter
Features Hioki CM4003 AC Leakage Clamp Meter
Easily transfer measurement data to your smartphone or tablet by using our free app GENNECT Cross or to an Excel® file. (Wireless Adapter Z3210 is necessary)
Detect minuscule leakage currents with a newly designed sensor. (Core jaw diameter up to φ 40 mm)
Broad measurement range extending from leakage currents to load currents
Complies with the performance standard set forth in IEC/EN 61557-13, an international standard on leak clamp meters
Solve GFCI and RCD problems quickly
Speed up pass/fail judgments with the built-in comparator function
Output function (waveform/RMS): use with a recorder to record waveforms and fluctuations
External power supply: use an optional AC adapter for continuous, long-term measurement
CAT III 300 V
Instantly create reports by a free app (GENNECT Cross)
GENNECT Cross, a free app designed specifically for use with Hioki measuring instruments, lets you check and manage measurement results and create reports.
The software provides a range of functionality that helps manage data in the field, including photographing measurement sites, placing measurement results on photographs, and saving hand written memos.
Optional Wireless Adapter Z3210 is necessary.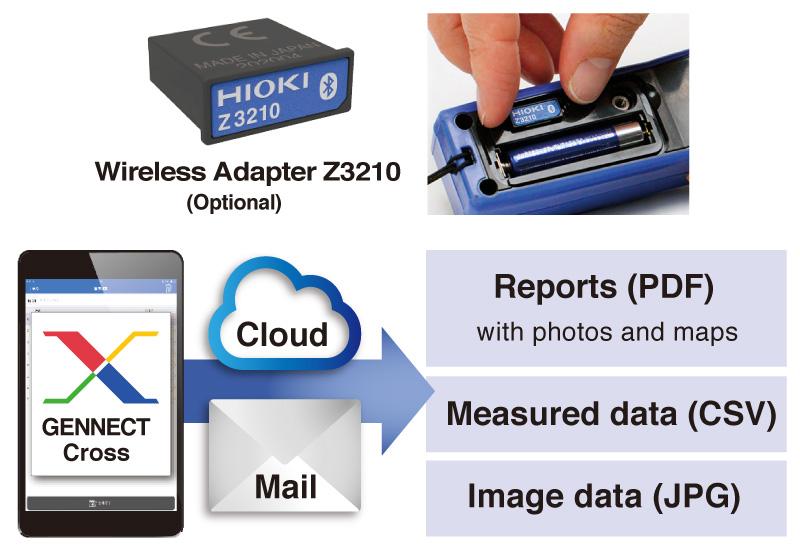 Easily transfer measurement data to an Excel® file
Excel® Direct Input function allows you to input measurement values directly and automatically into an Excel® file once the instrument's auto-hold function is activated. (Wireless Adapter Z3210 is necessary)
Regular inspections of GFCIs and RCDs [Photo drawing function]
Record measurement locations and measured values together.
Identify trip locations quickly and reliably!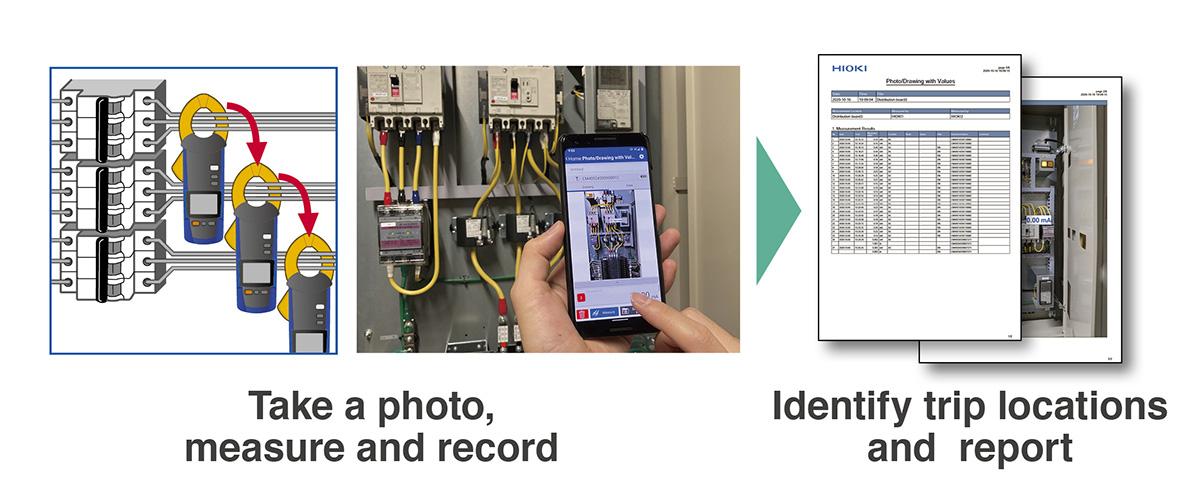 Identifying intermittent trip events [Event recording function]
The meter records event information (times and current values) in its internal memory.
Collect data using a tablet and check for trips!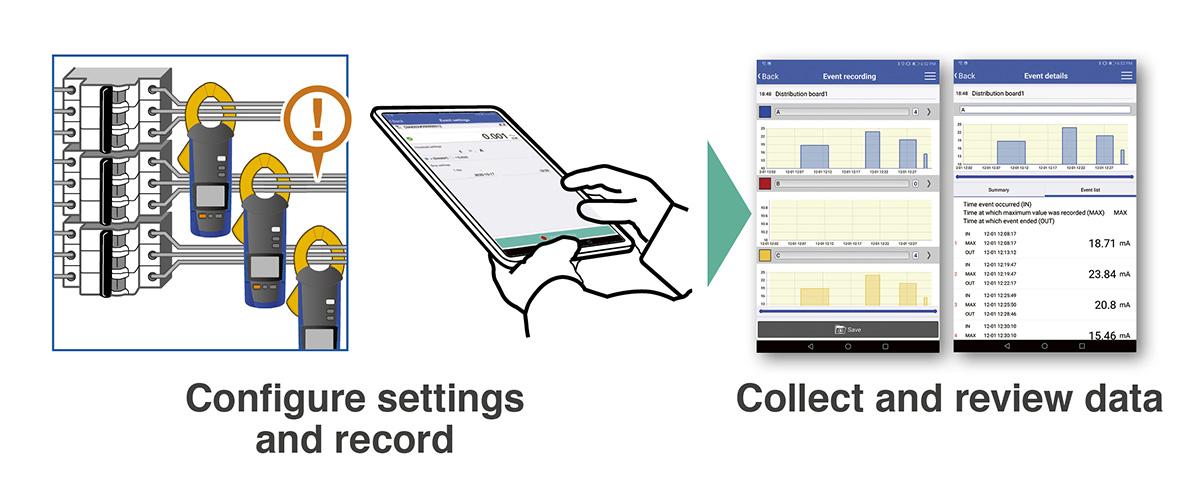 Detect minuscule leakage currents with a newly designed sensor (IEC/EN 61557-13 compliant)
The core and shielding are constructed from high-permeability magnetic materials.
The CT sensor features a uniform coil.
The CM4002/CM4003 complies with the performance standard set forth in IEC/EN 61557-13, an international standard on leak clamp meters.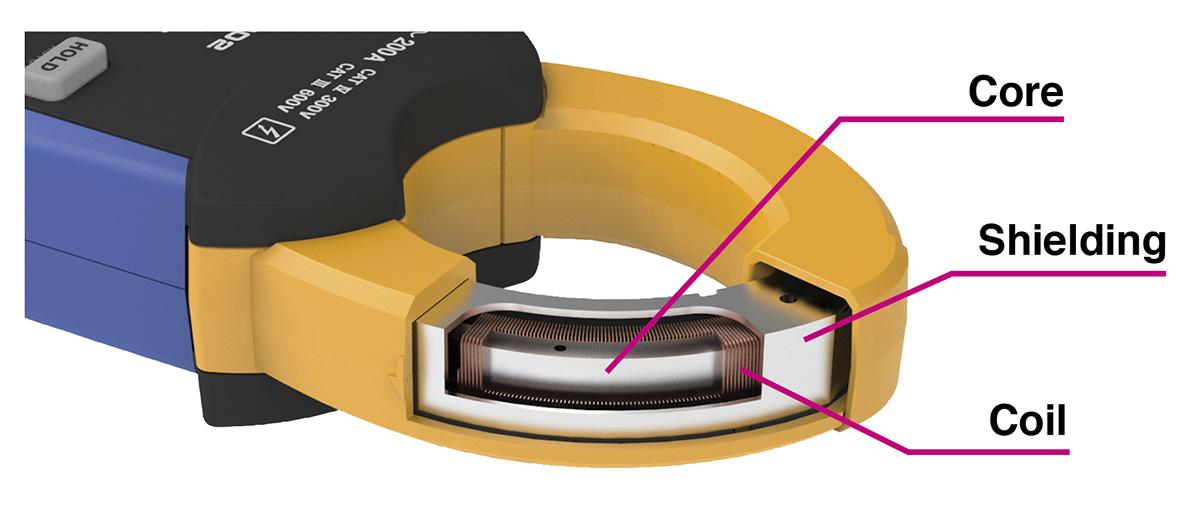 High-reliability leakage current measurement
1. Uniform measurement sensitivity inside jaws: When affixed around a wire, sensitivity is uniform regardless of the position of the conductor inside the jaws.
2. Resistance to the effects of external magnetic fields: Shielding made of high-permeability magnetic material blocks magnetic fields from the surrounding environment.
3. Elimination of the effects of highfrequency currents: A low-pass filter eliminates high-frequency capacitive leakage currents from inverters and other equipment.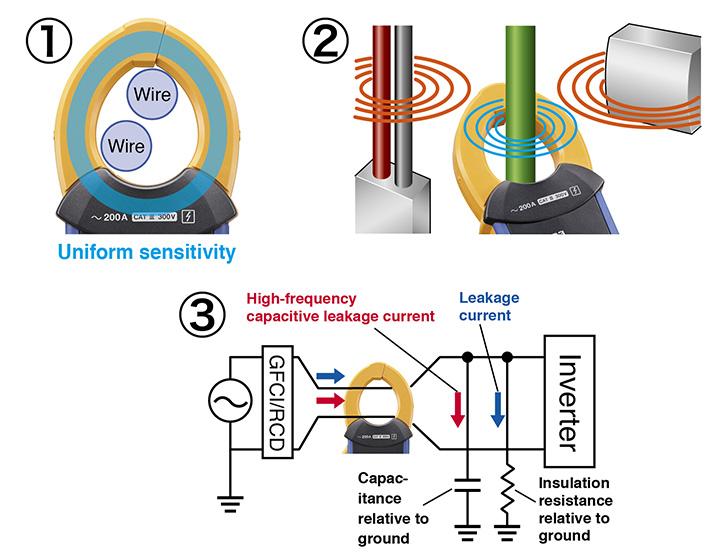 Measurable conductor diameter up to φ40 mm
The jaws have a maximum diameter of φ40 mm and can be used to pinch thick cables or multiple cables at once.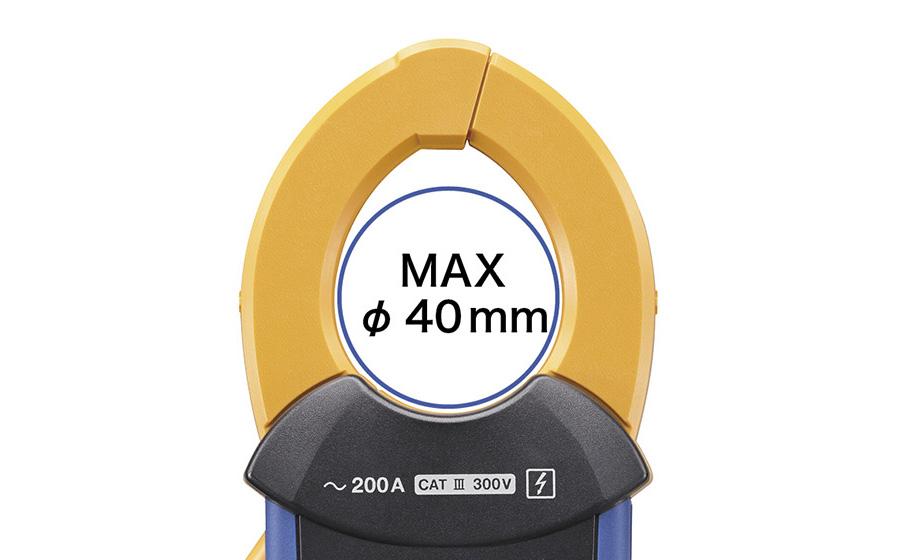 Long-time continuous measurement with output function and external power supply function
Waveform/RMS output function. Waveforms and fluctuations can be recorded in combination with a recorder.
External power supply function allows continuous measurement for a long period of time using an AC adapter (optional).
Specifications Hioki CM4003 AC Leakage Clamp Meter
AC Current range
6.000 mA, 60.00 mA, 600.0 mA, 6.000 A, 60.00 A, 200.0 A, 6 ranges, True RMS
Basic accuracy 45 Hz – 400 Hz: ±1.0% rdg ±5 dgt (6.000 mA to 6.000 A), ±1.5% rdg ±5 dgt (60.00 A, 200.0 A)
Basic accuracy 15 Hz – 45 Hz, 400 Hz – 2 kHz: ±2.0% rdg ±5 dgt
Defined accuracy range: 0.060 mA to 200.0 A
AC Voltage range
N/A
Frequency range
15.0 Hz to 2000 Hz
Crest factor
3 (other than 200.0 A range), 1.5 (200.0 A range)
Filter function
Cut off frequency: 180 Hz ±30 Hz at filter ON (-3 dB)
Output function
RMS (RMS value output), WAVE (waveform output)
Other functions
Max/ Min/ AVG/ PEAK MAX/ PEAK MIN value display, Display value hold and auto hold; Backlight, Auto power save, Buzzer sound, Event count display, Comparator, Simple event recording, Rush current measurement
Display
Display refresh rate: 5 times/s
Power supply
– AA-size alkaline battery (LR6) × 2; Continuous operating time: 48 hr. (without Z3210 installed), 30 hr. (with Z3210 installed and using wireless communications)
– AC Adapter Z1013 (5 V DC, 2.6 A)
Core jaw diameter
φ 40 mm (1.57 in.)
Dimensions and mass
64 mm (2.52 in) W × 233 mm (9.17 in) H × 37 mm (1.46 in) D, 400 g (14.1 oz.)
Accessories
Connection Cable L9097 × 1, USB Cable × 1, Carrying case C0203 × 1, Instruction manual × 1, Operating Precautions × 1, AA-size alkaline battery (LR6) × 2
Jual Hioki CM4003 AC Leakage Clamp Meter dengan harga murah dan berkualitas bergaransi tentunya. dapat di kirim ke seluruh wilayah Indonesia.

Jika anda butuh penawaran dan info Stok silahkan hubungi sales kami di No Telpon 0821 2742 8667 Telpon/SMS/Whatsapp.

Karyamandiritechindo.com Supplier dan Distributor Hioki di Indonesia. Karyamandiritechindo.com menyedikakan juga berbagai merk Alat ukur & Lab, Alat Survey, Alat komunikasi dan GPS

Dalam pengiriman produk yang pelanggan beli, sebelumnya sudah kami cek untuk memastikan produk dalam keadaan baik dan siap kirim.