Product Description
Lutron GM-501 Digital Balance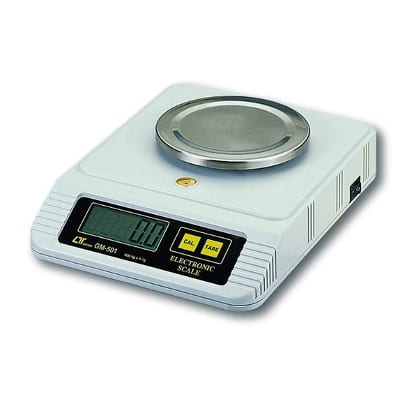 Features Lutron GM-501 Digital Balance
Microprocessor circuit with high accuracy & better performance.
High resolution & wide measuring capacity, 500.0 g x 0.1 g.
Large LCD display, 18 mm ( 0.7″ ) digit size, easy read out.
Built-in gram & oz display unit, select by the internal slide switch.
GM-501 built-in self calibration system, high precision.
Heavy duty ABS housing plastic case.
Specifications Lutron GM-501 Digital Balance
Display LCD, 18 mm ( 0.7″ ) digit size, 5 digits with annunciator.
Measuring Capacity 500.0 g
Resolution 0.1 g
Min. Display Weight 0.3 g
Unit Select g or oz, select by internal slide switch.
Accuracy (23 5 ℃) ± ( 0.2 % + 2 d )
After the moment when the self-calibration be executed.
Sampling time Approx. 0.8 second.
Tare Control Full capacity.
Transducer Load cell.
Circuit Microprocessor circuit.
Auto Calibration Use 200 g standard weight to execute self-calibration
automatically. * 200 g standard weight is optional.
Operating Temperature 0 ℃ to 50 ℃ ( 32 ℉ to 122 ℉ ).
Operating Humidity Max. 80% RH.
Size Cabinet 250 x 188 x 70 mm
Platform Round, 120 mm Dia.
Accessory Included
Lutron GM-501 Timbangan Digital
Operation Manual……..1 PC.
Batere AA 1,5 Volt = 6x
Jual Lutron GM-501 Digital Balance dengan harga murah dan berkualitas bergaransi tentunya. dapat di kirim ke seluruh wilayah Indonesia.

Jika anda butuh penawaran dan info Stok silahkan hubungi sales kami di No Telpon 0821 2742 8667 Telpon/SMS/Whatsapp.

Karyamandiritechindo.com Supplier dan Distributor Lutron di Indonesia. Karyamandiritechindo.com menyedikakan juga berbagai merk Alat ukur & Lab, Alat Survey, Alat komunikasi dan GPS

Dalam pengiriman produk yang pelanggan beli, sebelumnya sudah kami cek untuk memastikan produk dalam keadaan baik dan siap kirim.